The Caribbean Coast, and more precisely Puerto Viejo was the last stop of this Costa Rica trip before heading to San Jose. This place really got my heart. 🧡
The vibes here are very relaxed and cool. Puerto Viejo is the main city of the southern Caribbean Coast and is surrounded by beautiful beaches. 🤩
Puerto Viejo was once a small fishing village. It is becoming increasingly popular and is one of the most popular surfing destinations in the world. With its relaxed atmosphere and unique blend of Latino, Afro-Caribbean and indigenous Bribri cultures, the city is a lively place to spend a relaxing vacation.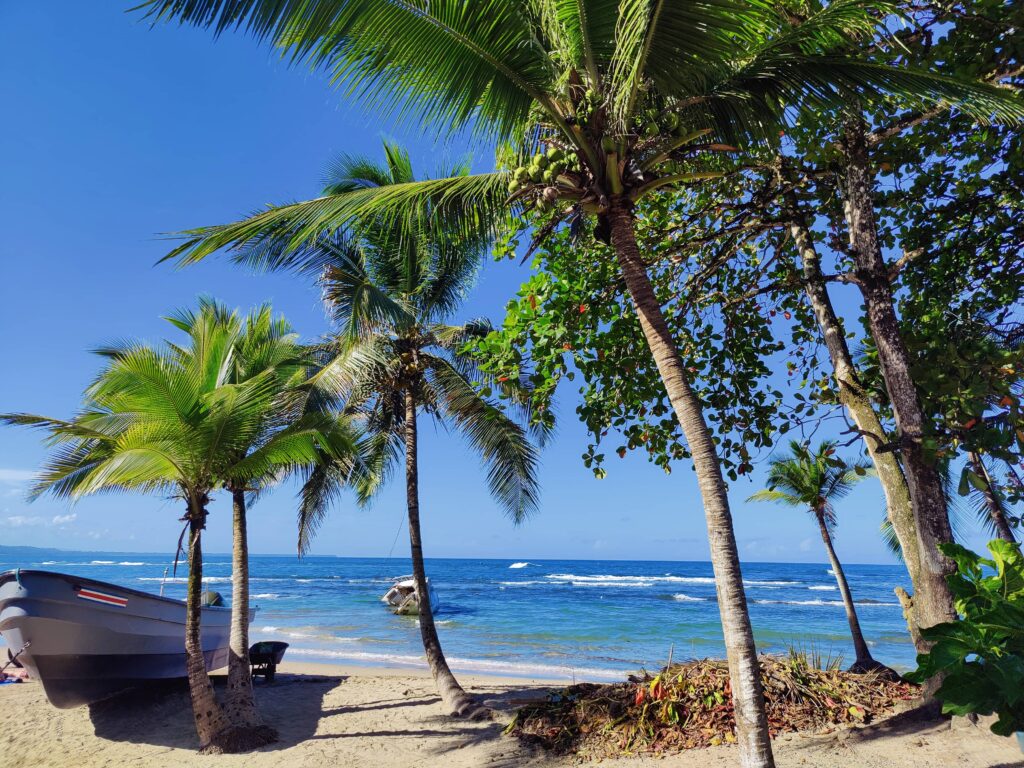 This city has a wide variety of bars, restaurants, stores, and accommodations and hotels scattered throughout. I really liked this part of Costa Rica, which has a very different atmosphere than the Pacific coast.
Here, I felt more like I was on a vacation on a Caribbean island. It would be a pity not to go to Puerto Viejo when you are traveling in Costa Rica.
Things to do in Puerto Viejo in Costa Rica
1. Cycling from Puerto Viejo to Manzanillo 🚴‍♀️
From Puerto Viejo, it's 26 km round trip to Manzanillo. Everywhere in Puerto Viejo you can rent bikes.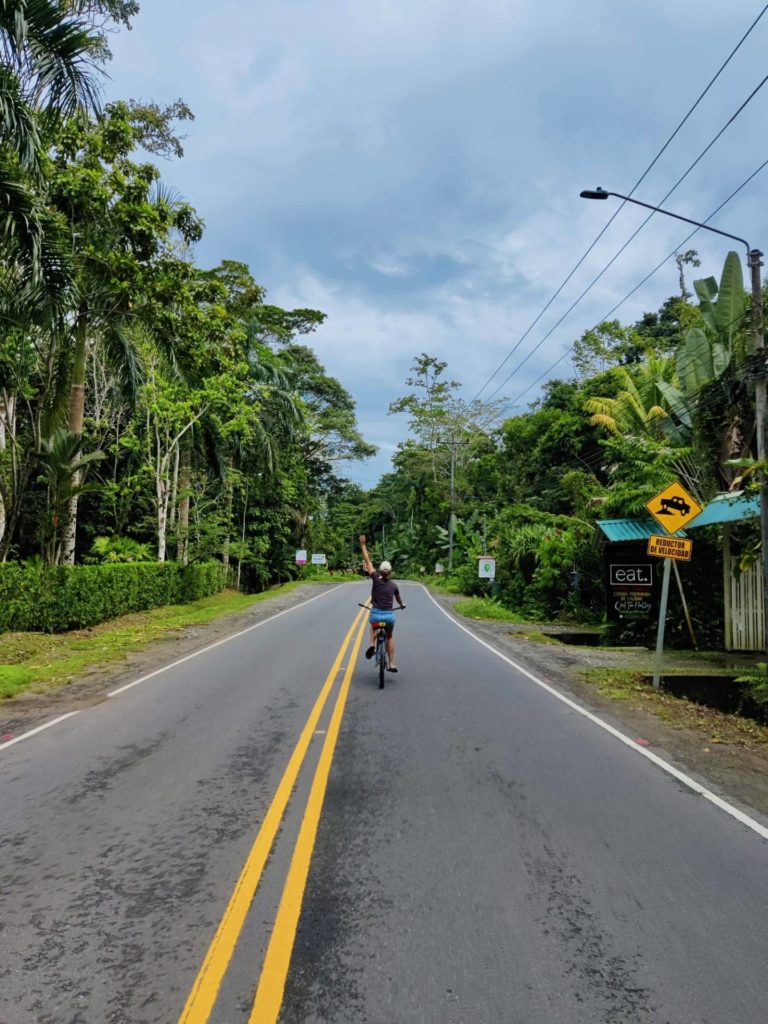 While biking, you'll pass by the most beautiful beaches such as:
Playa Cocles
Playa Chiquita
Playa Punta Uva
Playa Negra (located on the other side of Puerto Viejo)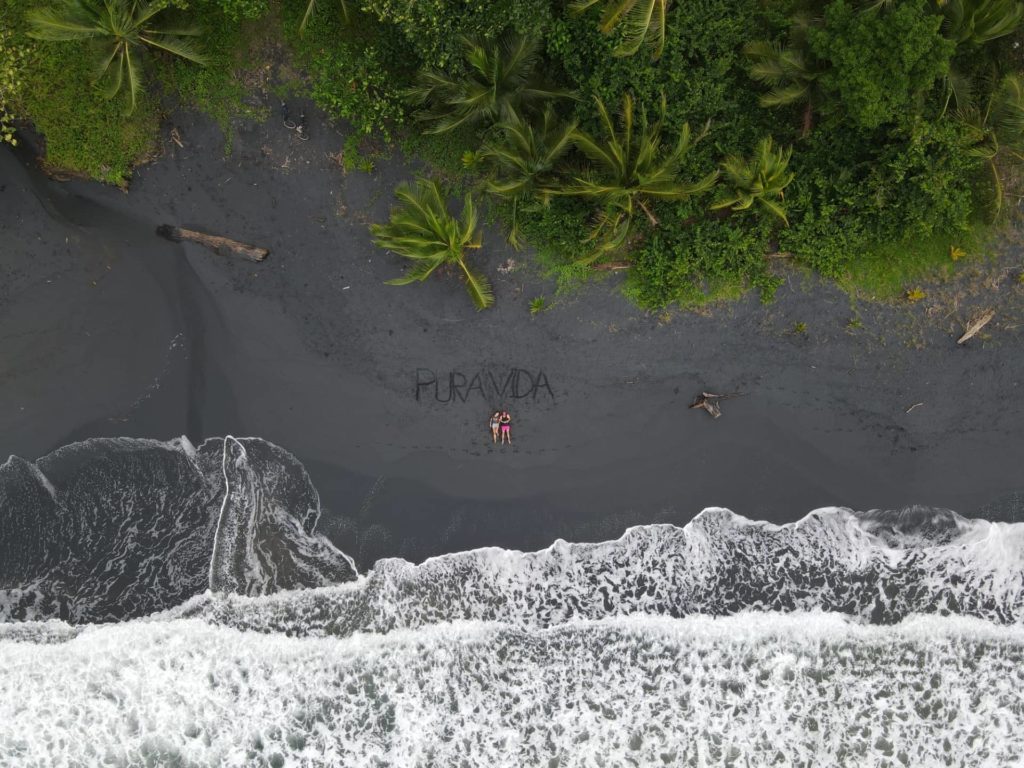 Below, a map of the beaches in Puerto Viejo. ⬇️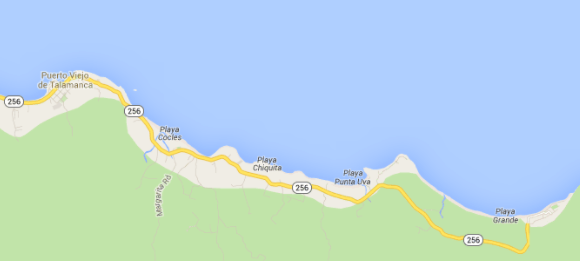 A little advice, leave early when it is still cool and choose a nice beach to spend the afternoon. We spent the afternoon at Playa Punta Uva. It is according to me the most beautiful beach of the region. It is also part of my favorite beaches of this trip. Furthermore, it is also here that you will find one of the most Instagrammable spot with the palm tree.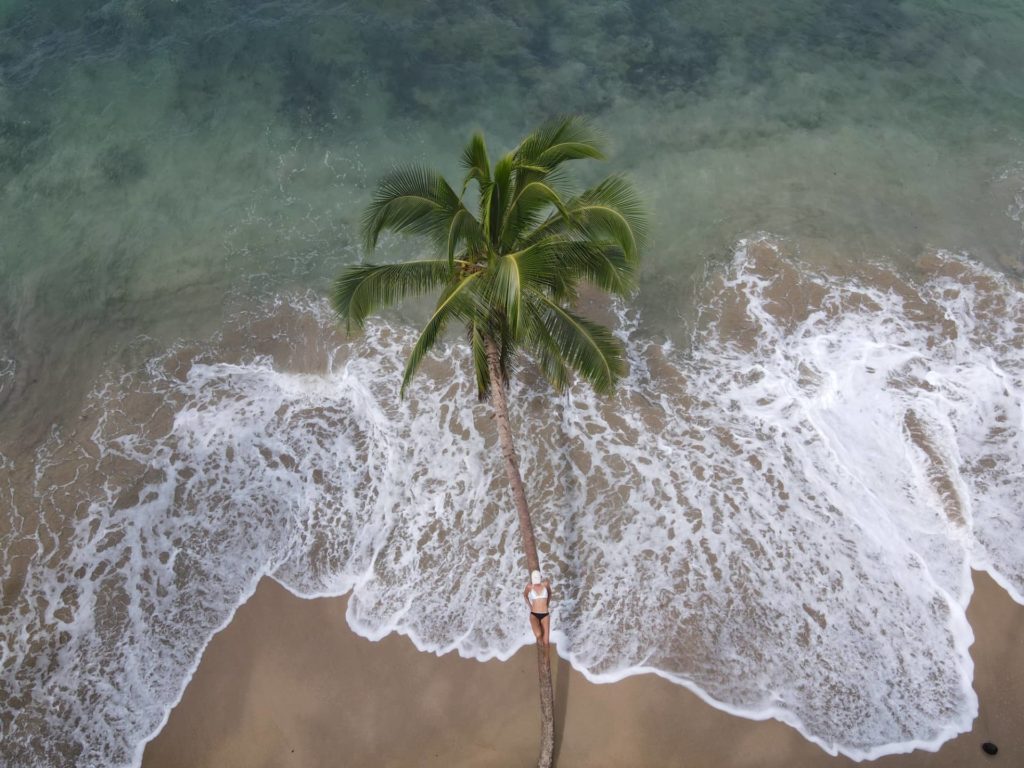 If you want to eat on the way, you can stop at Playa Chiquita and eat at the Gypsea Café, which is a nice place for lunch.
2 | Kayaking in Punta Uva 🚣‍♂️
You can also combine biking with an hour of kayaking at Punta Uva Beach. The river runs through the jungle. We didn't do it, but it's a great activity to do.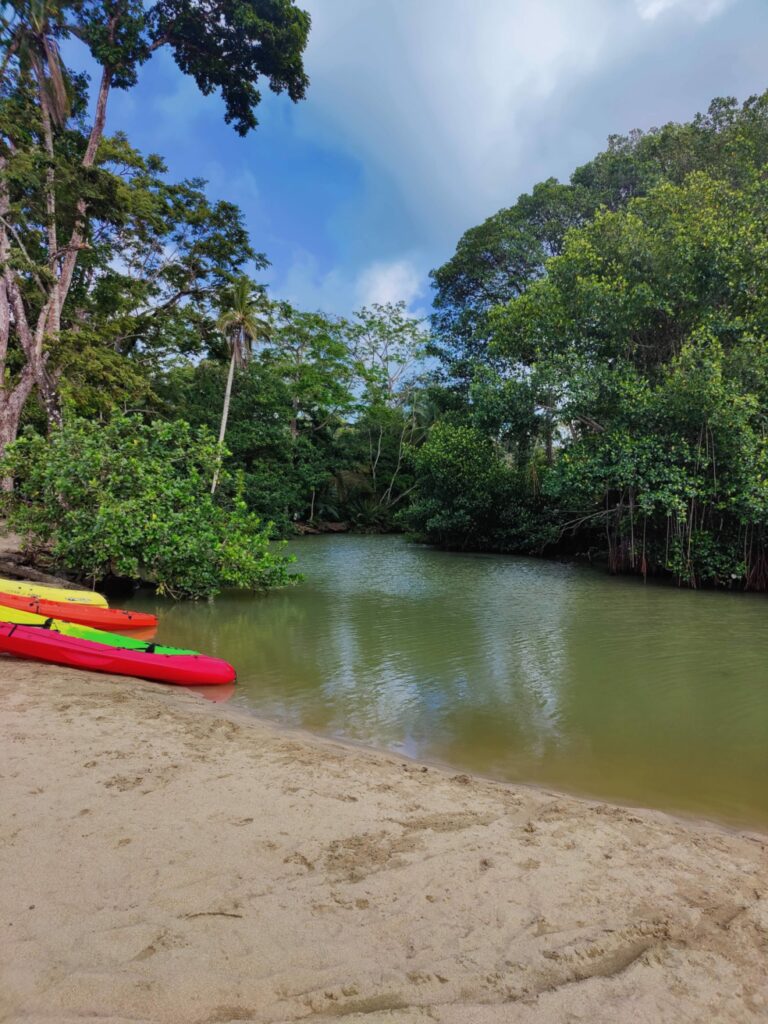 3 | Walk in the Cahuita National Park 🐒
Cahuita National Park is 20 km from Puerto Viejo. While hiking in the park, you'll see the beach on your left and dense jungle on your right. You're likely to see all kinds of animals like raccoons, sloths, howler monkeys and more.
Tip: Go when the tide is low. We didn't pay attention to that and had the high tide. So, we could not continue to the end of the trail, which is a shame.
| The entrance fee is by donation. You can give what you want. To give you an idea, generally the average amount is 5 euros.
4 | Visit the Manzanillo National Park 🦝
Manzanillo Park is a unique habitat, this reserve includes a 10-kilometer beach, a forest, a coral reef and 2 wetlands. The Refugio Gandoca Manzanillo is also the nesting area of several species of turtles, manatees, crocodiles, caimans, tarpons and dolphins.
Located a few kilometers north of the Panamanian border, this refuge protects the most endangered flora and fauna of the region.
My good addresses in Puerto Viejo 🍽️
See also my article about some Costa Rica food specialities as well as my good addresses.
Todo es possible – A delicious Italian restaurant, owned by an expat originally from Rome. Big mention for the swordfish pasta. 🍝 (photo 1)
El Caraibe del Sol – One of my favorite restaurants, which is a Caribbean cuisine. Try the Caribbean style chicken, a killer! 🍗 (photo 2)
Koki beach – Beautiful restaurant and bar overlooking the beach, and situated in the center of Puerto Viejo. The food and cocktails are great. 🍹 (photo 3)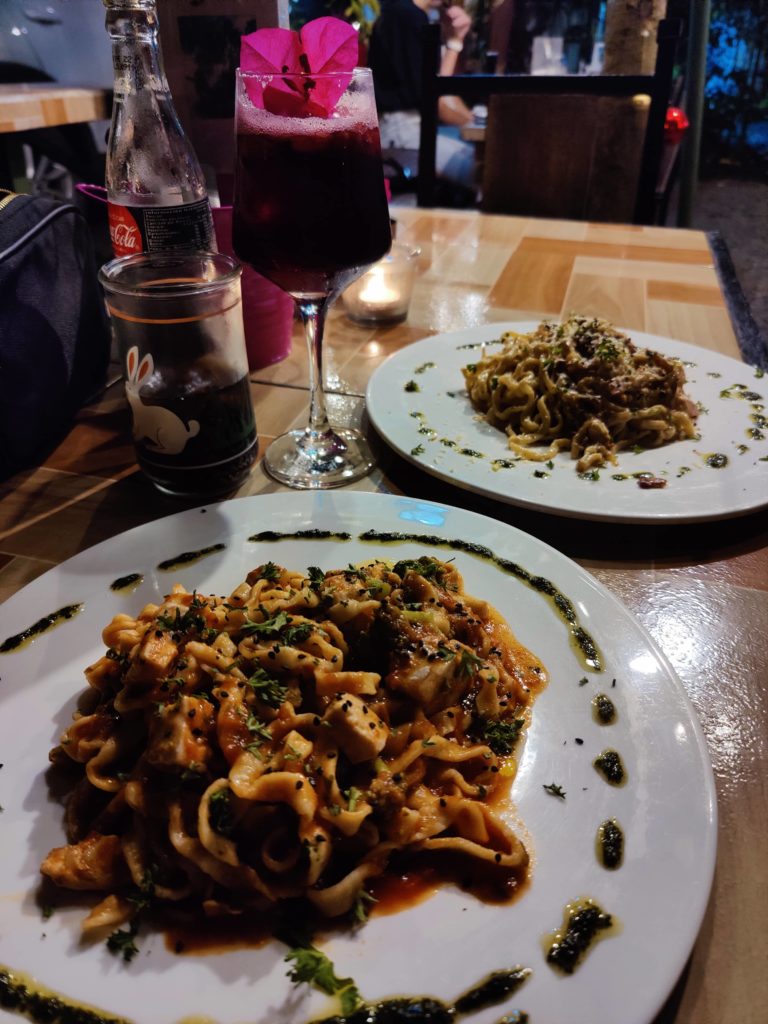 Where did we stay in Puerto Viejo ? 😴
We stayed at La Prometida hotel, which was more than perfect! It's a little more expensive than other hotels in the area, but it's worth the price.
The rooms are modern villas nestled between the jungle and the ocean. Each villa is thoughtfully decorated. The location is ideal, it's 2 steps from the beach, and is also within walking distance of the center.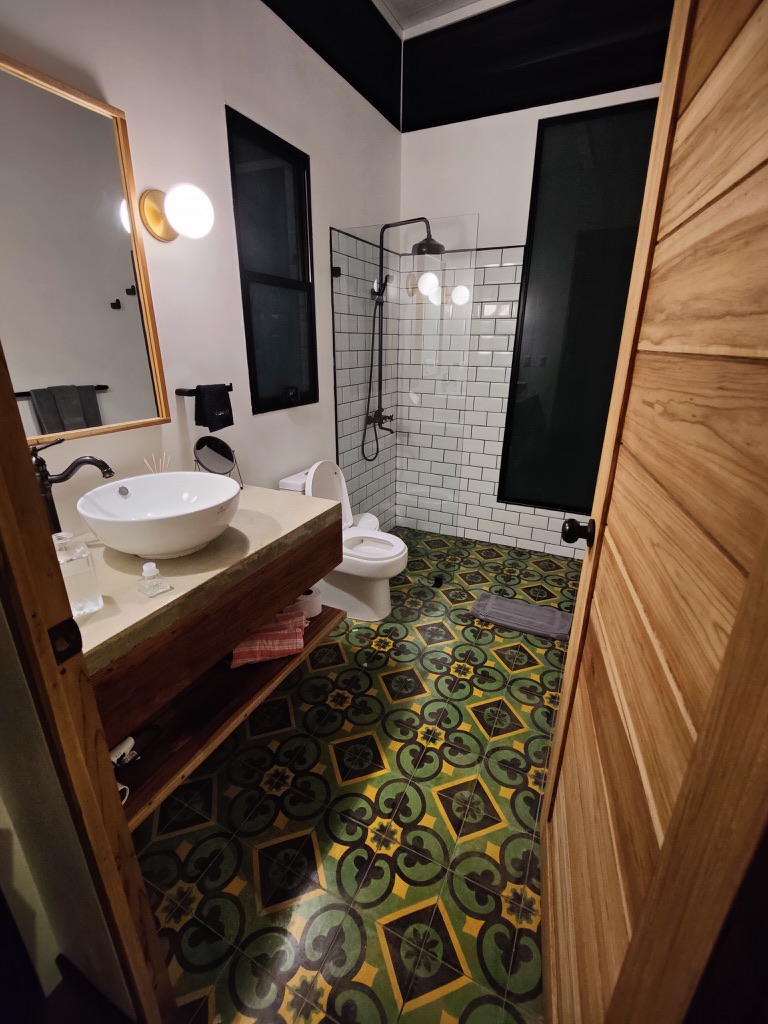 The owners, an Argentinian couple, are very nice. You get the impression that they really care about your well-being. Every morning we were given special attention. The coffee was dropped off at our door, which is a very pleasant touch.
The place is also so cozy, comfortable and peaceful that you can only hear the birds and monkeys in the morning. Big mention also for the breakfast. All in all, this is a hotel I highly recommend.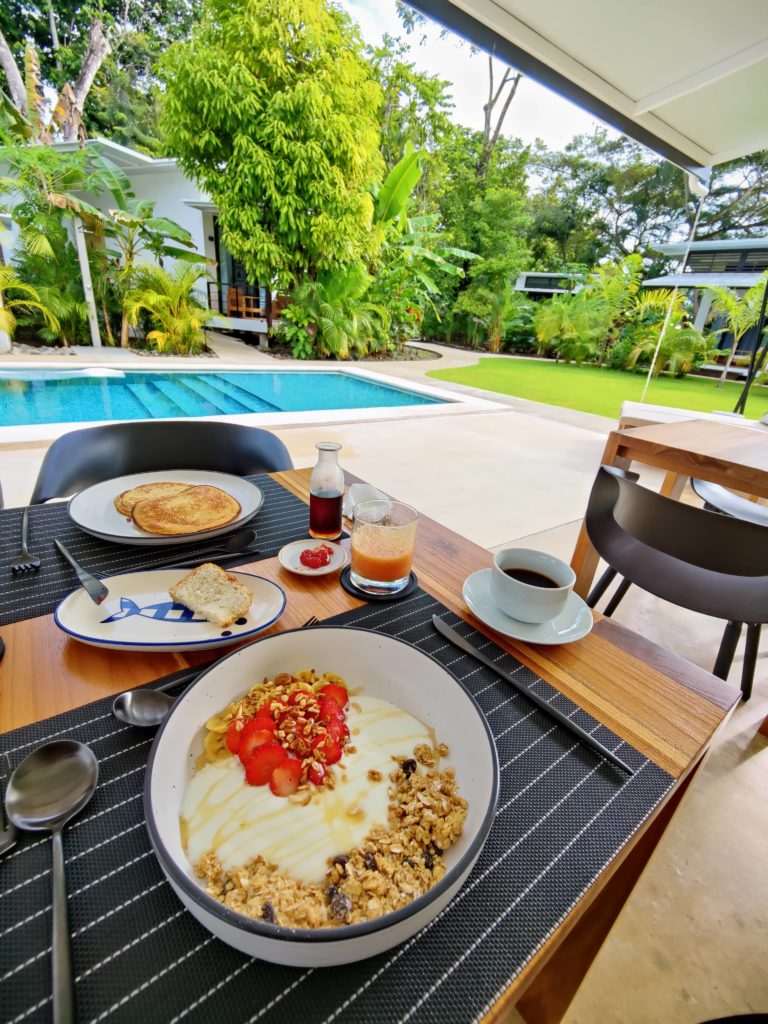 ---
I hope this article on visiting the Caribbean Coast of Costa Rica, and more precisely about tuhe things to do in Puerto Viejo will help you prepare your visit! If you have any questions, feel free to ask me in the comments of the article. I'll be happy to answer them. 
Find also my other articles on Costa Rica.