First, to eat "local", nothing better than to go to a "Soda". This has nothing to do with the soft drink, a soda, but his is where the locals eat.
At the end of the article, I mentioned some nice sodas to eat during your trip. Discover in this article also 10 food specialties of Costa Rica. I really loved the food in Costa Rica, it was delicious !
1 | Gallo pinto, the favorite breakfast of the Ticos
This is the national dish of Costa Rica. Wherever you go in Costa Rica, you will be served Gallo pinto and mainly for breakfast. The two main ingredients of Gallo pinto are rice and black beans. Gallo pinto means "painted rooster", referring to the black and white spots found on some roosters. Gallo pinto is frequently served with eggs, tortillas, fried plantains or cheese.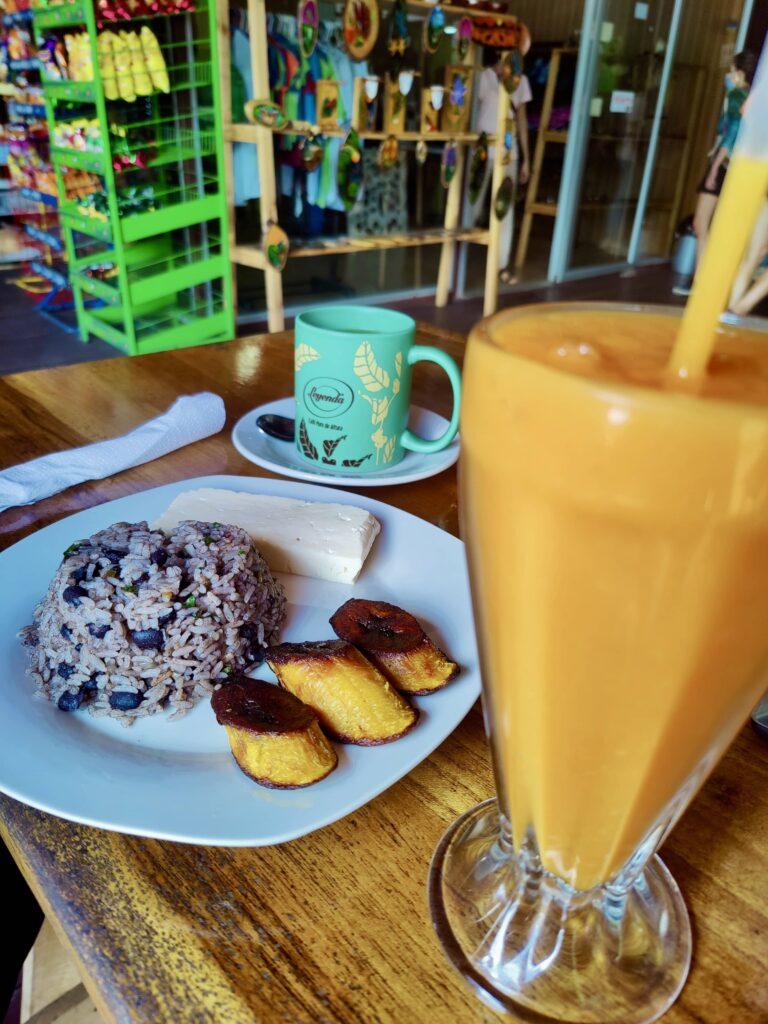 2 | Cassado, the traditional dish in Costa Rica
The casado is the second most famous dish in Costa Rica. This lunch or dinner is essentially a mixed dish of beef, chicken or fish accompanied by rice, beans, picadillo and fried sweet plantains. The picadillo is made with unfamiliar vegetables such as chayote (kind of plant) and palmito (the heart of the palm). I love this dish !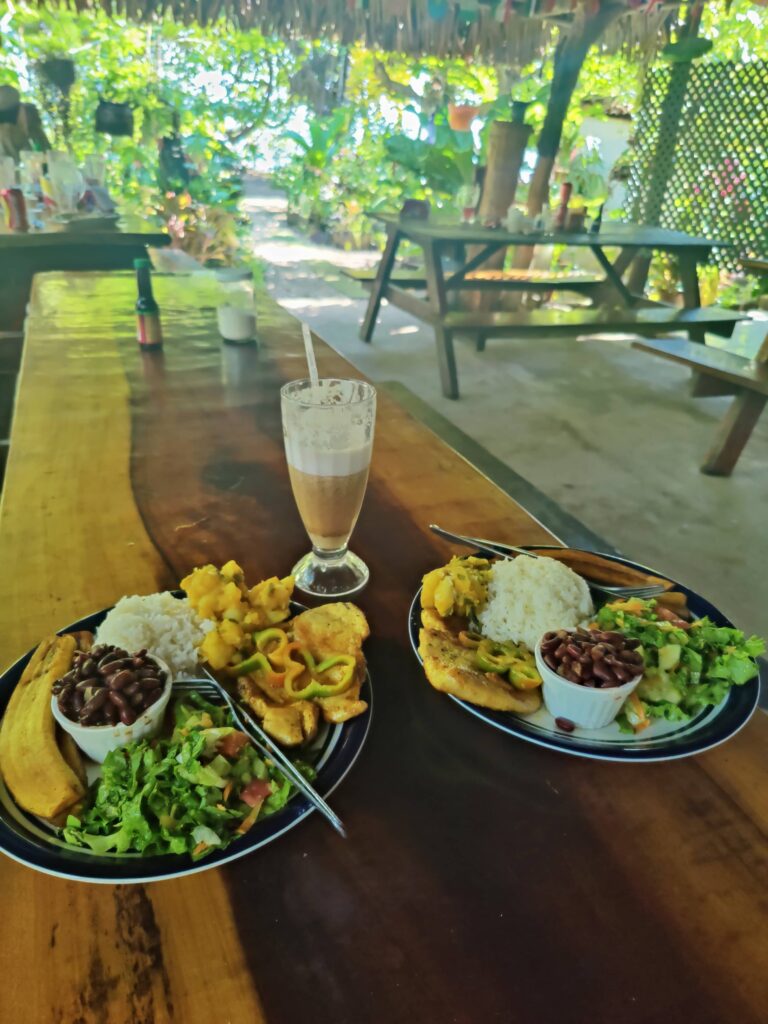 3 | Patacones
Patacones are made from mashed plantains that are fried and browned in a round shape and then sprinkled with sea salt. Patacones are used as an accompaniment to a meal.
4 | Tamales
Tamales are made of corn dough, meat, rice and vegetables. This mixture is then wrapped in a banana leaf and steamed. Costa Ricans serve tamales as the main dish at Christmas. We had some with our breakfast at the Cacao Lodge.
5 | Ceviche
Although there is a Peruvian version of ceviche, Costa Rica has taken this recipe and added its own personal touch. In Costa Rica, this dish is also prepared with fresh marinated raw fish and citrus fruits. You will also find cilantro, garlic, celery, peppers, onions and chili. Ceviche is an ideal dish to enjoy when the weather is hot, which is often the case in Costa Rica!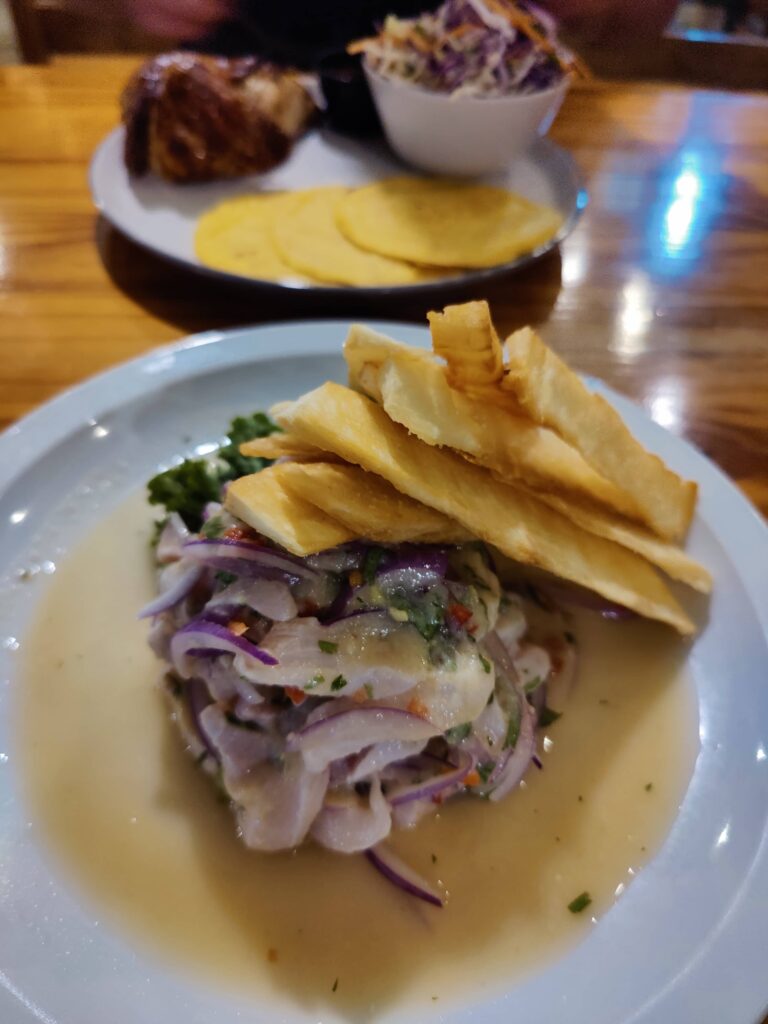 6 | Chifrijo
The name Chifrijo is a combination of chicharrón (fried pork or chicken) and frijoles (beans). Chifrijo also includes rice, pico de gallo (tomato, onion, cilantro) and add-ons like avocado or jalapeños. It's very tasteful!
7 | Arroz con leche
This is a typical Costa Rican dessert. Arroz con leche (literally "rice pudding") is a popular Costa Rican dessert that is both delicious and affordable. It usually consists of cooked white rice, cow's milk, condensed milk, sugar, vanilla and spices, including cinnamon and nutmeg. Sometimes raisins are added.
8 | Caribbean specialties
Coconut rice and beans are one of the many tasty Costa Rican dishes. They are accompanied by chicken or fish. Although there are Caribbean-style restaurants throughout the country that serve Caribbean dishes (including coconut rice and beans), you'll find this dish almost anywhere you go on the Caribbean side of the country, especially if you plan to visit the southern Caribbean destinations between Cahuita and Manzanillo.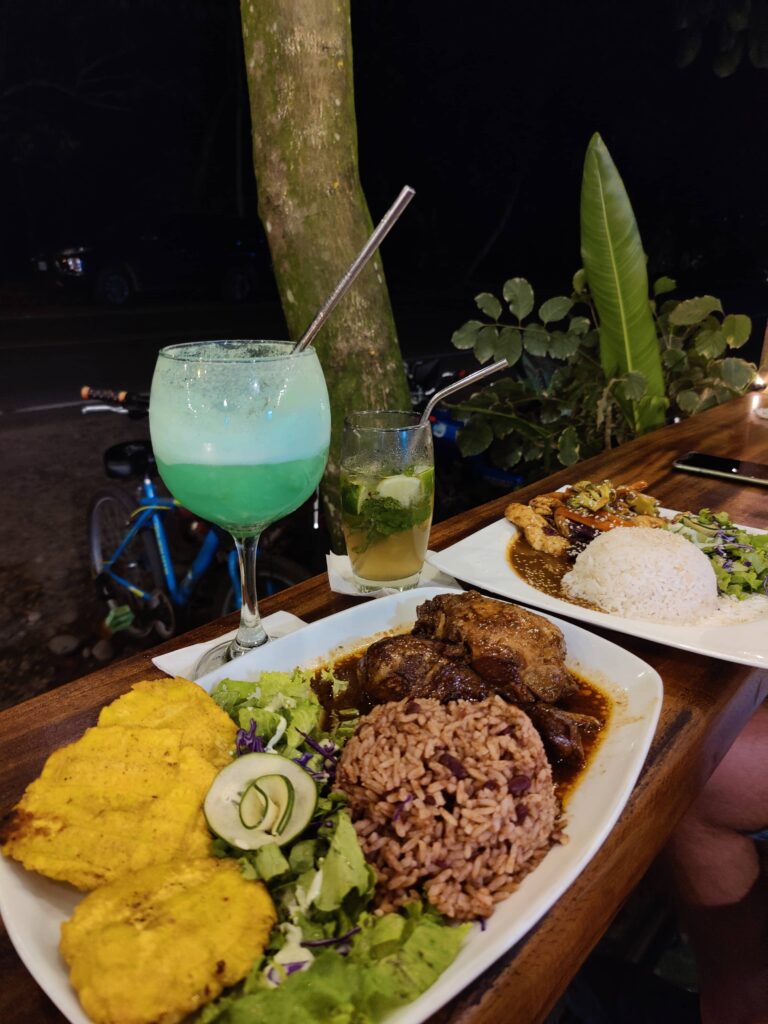 9 | Fresh juices & smoothies
Costa Rica is a country rich in fruit trees, where it is common to enjoy smoothies in the street. You will be able to taste tropical fruit juices such as watermelon, mango, guava, papaya (I loved it), tamarind, guanabana (a nice discovery) etc. They are served with water or with milk.
My favorite drink in Costa Rica (by far) is the papaya fruit juice. So delicious!
For coconut lovers, you will have to turn to pipa frias, freshly opened coconuts that you can enjoy on the go in the street or with your feet in the sand.
10 | The local Costa Rican beer
Beer is also widely consumed in Costa Rica. Discover the Imperial beer, the most consumed in the country, and the Pilsen, a more alcoholic beer.
Some good typical addresses
To finish, here are some good typical addresses:
Soda Margarita in Esterillos Oeste
La Hendij sabrosa in Alajuelo
Gusticos in Monteverde
Soda la Naranja in Montezuma
Soda Sacnhèz in Quepos
Sol del Caraibbe in Puerto Viejo
On the website visitcostarica, you'll find other restaurant inspiration.
---
I hope this article makes you want to discover these 10 food specialties of Costa Rica during your stay. Do you have any questions? Do not hesitate to ask me in comments
Find also my other articles on Costa Rica.