As I already said in my article – Lisbon city guide, we found the Portuguese food very tasteful! It was a very good surprise, I did not expect to eat so well. Find out in this a food guide for Lisbon.
Casa portuguesa do pastel de bacalhau in Lisbon
You can try the typical codfish cake at Casa portuguesa do pastel de bacalhau. This is one of the most popular ways to eat bacalhau in Portugal. These delicious cod cakes are made with mashed potatoes, codfish, eggs, parsley, and onion. Shaped with two spoons, they are deep-fried before being served hot as an appetizer.
The price is quite expensive, but it is a must-try when in the neighborhood.
Restaurant Peixola
Have dinner at Peixola in the chiado district if you are a fish lover! You will eat around the bar with a view over the kitchen. The food is an authentic explosion of taste and the staff is very nice and helpful with their guests. 🤩
This is one of the best restaurants I did so far and my favorite one in Lisbon.
Taberna das flores
Have dinner at Taberna das flores. This is an amazing small restaurant with an authentic charming interior. The decor is reminiscent of old taverns and the menu, which is surprisingly well presented to each table on a giant blackboard, displays the daily dishes/snacks. It is a typical Portuguese restaurant. We really enjoyed our time here!
Nicolau café
Brunch at Nicolau café in the center of Lisbon. The food is delicious! You can also eat outside, which we really enjoyed.
Pasteis de Nata
As previously mentioned in my article – LISBON CITY GUIDE : 14 THINGS TO DO, it is not possible to end our trip in Lisbon without telling you about the Pastéis de Nata. A staple of Portuguese cuisine, the pastéis are delicious little flans surrounded by puff pastry. They can be enjoyed plain or with cinnamon and icing sugar. We tried three different places:
Pastéis de Belém, situated in Belém is one of the most famous Pastéis factories in the country. So if you visit this district of Lisbon, be sure to stop at the Pastéis de Belém factory.
La Fabrica de Nata
Manteigaria
The three are excellent, but I have a preference for those of Manteigaria.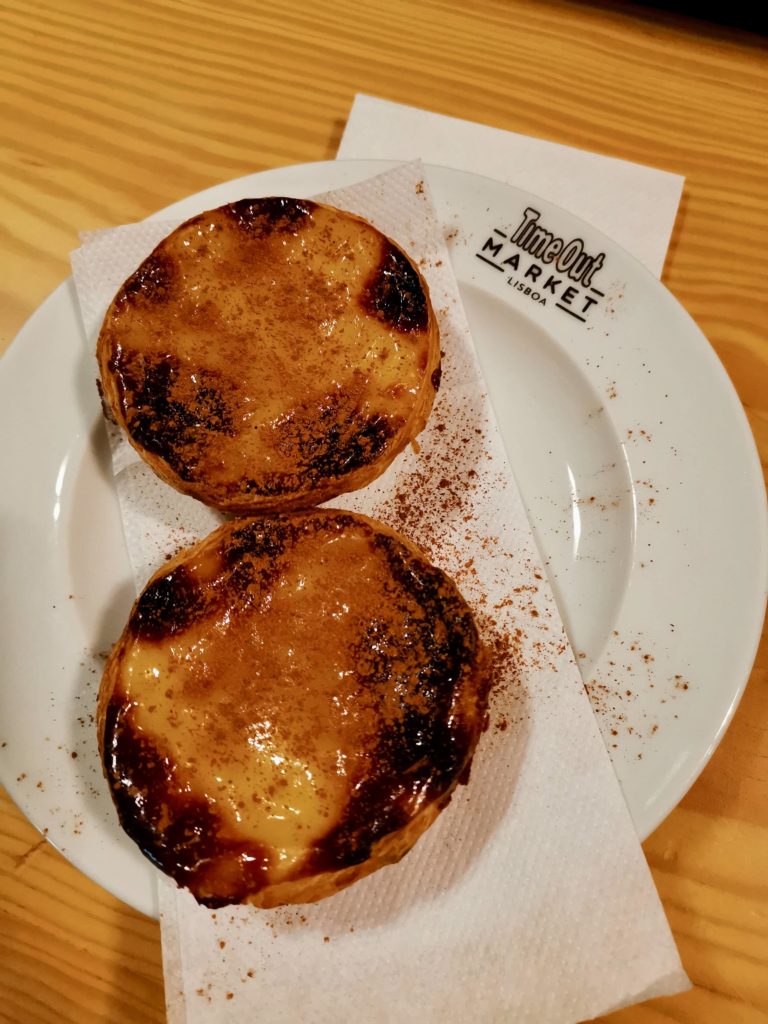 Time-out market in Lisbon
Taste the cuisine of Lisbon's most popular chefs at the Time-Out Market. The Time-Out Market is a large covered market with around thirty small kiosks lined up. Each stand is run by a different chef who offers his specialties. That place has become a trendy place for the Lisbon gastronomy.
---
Hope this article will help you to eat well during your trip to Lisbon. For more Portuguese travel inspirations, check my article about the Algarve and Porto.
Pin it!