If you are going to visit Malta soon in 4 days during a long weekend or a road trip, then you are at the right place! In this article, I explain to you EVERYTHING you need to know to discover the island of Malta in 4 days at your own pace.
Located in the south of Sicily, Malta is a small archipelago that has a lot to offer between its British heritage, its Italian influences, its Mediterranean style, its rich cultural heritage and its breathtaking landscapes. I made up a little guide about Malta to make your trip easier.
In 4 days in Malta I also visited the island of Gozo and Comino.
Things to know before going to Malta
In Malta, we drive on the left. Driving on the left is not insurmountable for vigilant drivers, but keep in mind that even the roundabouts are taken from the left. We almost had an accident because we looked to our left side to see if cars were coming instead of our right side. So very important to note! 🤗
When to go to Malta? ☀️
As the island is very small and very populated, I would not recommend going on high season (July and August in particular). Not only can it be very hot but in addition, this European destination is very touristy.
The good news is that Malta enjoys a sunny, mild and temperate Mediterranean climate. With over 300 sunny days a year, Malta can be visited all year round! If you choose to go during the summer, you will be delighted with incredible swimming spots.
The advantage of a small island is that the sea is always close by.
Transportation and accommodation
How to move around in Malta ? 🛵
Traveling around the main island of Malta can be quite tedious, especially around the capital, Valletta. As we like to travel rather by scooter or ATV when we travel on an island, we have opted this time again for a scooter.
It is a good way to discover the island and as the island is not very big, it is quite simple to move around.
Where to stay in Malta ?
We booked a shared apartment via booking.com with a private room for our 4 days in Malta. The apartment was very modern and nearby the city.
If you are looking for accommodation at a reasonable price, we recommend you that kind of accommodation. Otherwise, you can opt for a hotel. There are nice resorts nearby the beaches.
9 Things to do in Malta
1 | Marsaxlokk
Marsaxlokk is a fishing village. It is a small, authentic and colorful village. Every Saturday and Sunday morning there is a small fish and craft market.
It was one of our first stop, and we were pleasantly surprised by the place. We had a good lunch here with a view on the little colored fishing boats. These boats are called "luzzijiet" (traditional Maltese boats). It is one of my favorite place in Malta.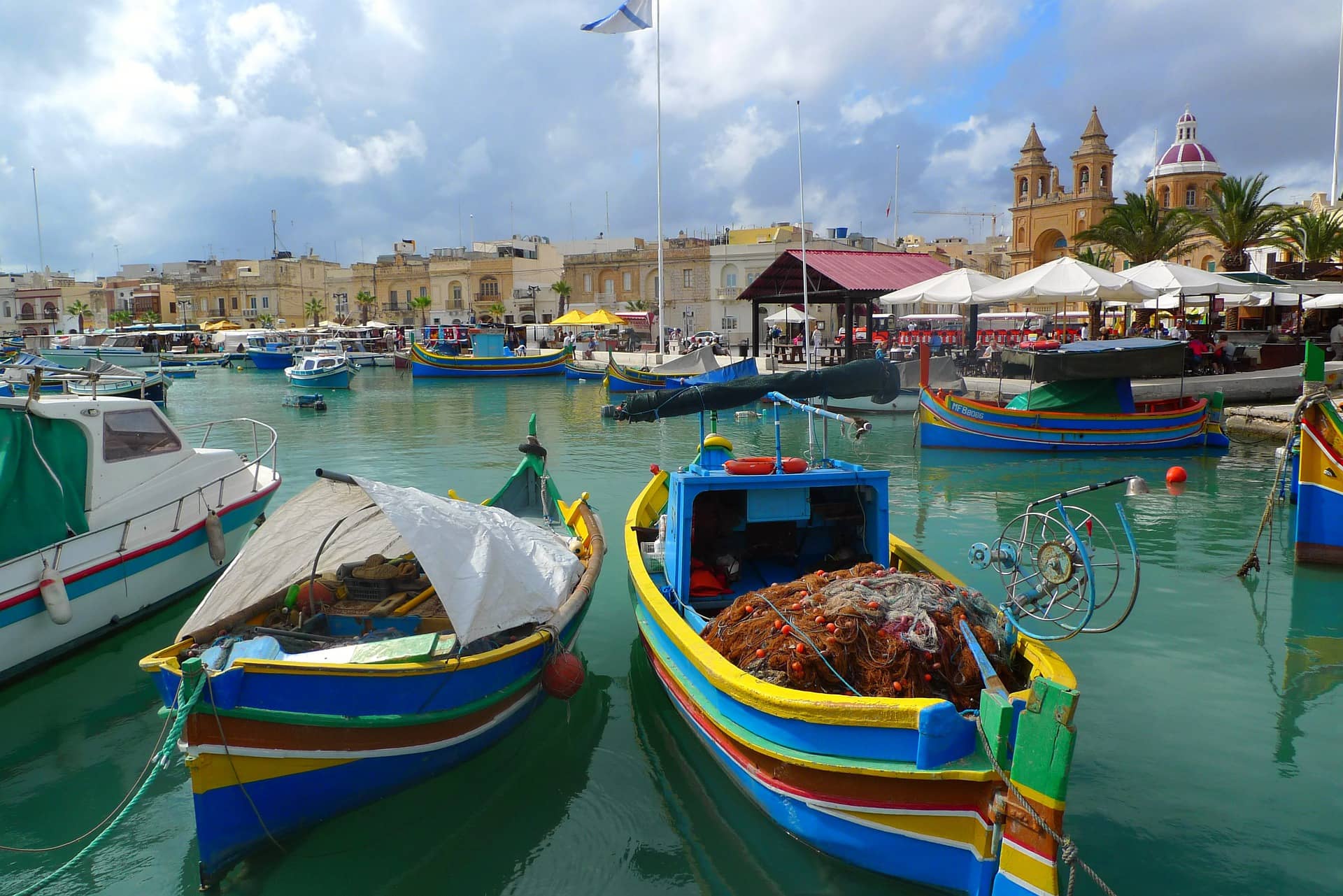 2 | The Three Cities
Vittoriosa, Senglea et Cospicua, these are three fortified towns located in the south of Malta. Their geographical location, facing Valletta, offers a breathtaking view over the capital.
How to get to the 3 cities?
If you are traveling by bus, arrive directly at Senglea (bus line 1 from Valletta).
By car, park in Cospicua.
More picturesque, by boat, from the Valletta pier, the regular shuttle bus only serves Vittoriosa, which makes the inhabitants of Senglea grumble, forcing them (and you too…) to use the metal footbridge. But don't worry, you will always find a charming Luzzu to cross the Grand Harbour.
3 | La Valletta
Have a walk in Valletta, which is the capital of Malta. Valletta must-see are, blank cannon firing at Upper Barrakka Garden. Like any city visit, stroll from alleys to alleys, discover the red telephone boxes and marvel at the colorful closed balconies called "gallarija" in Maltese.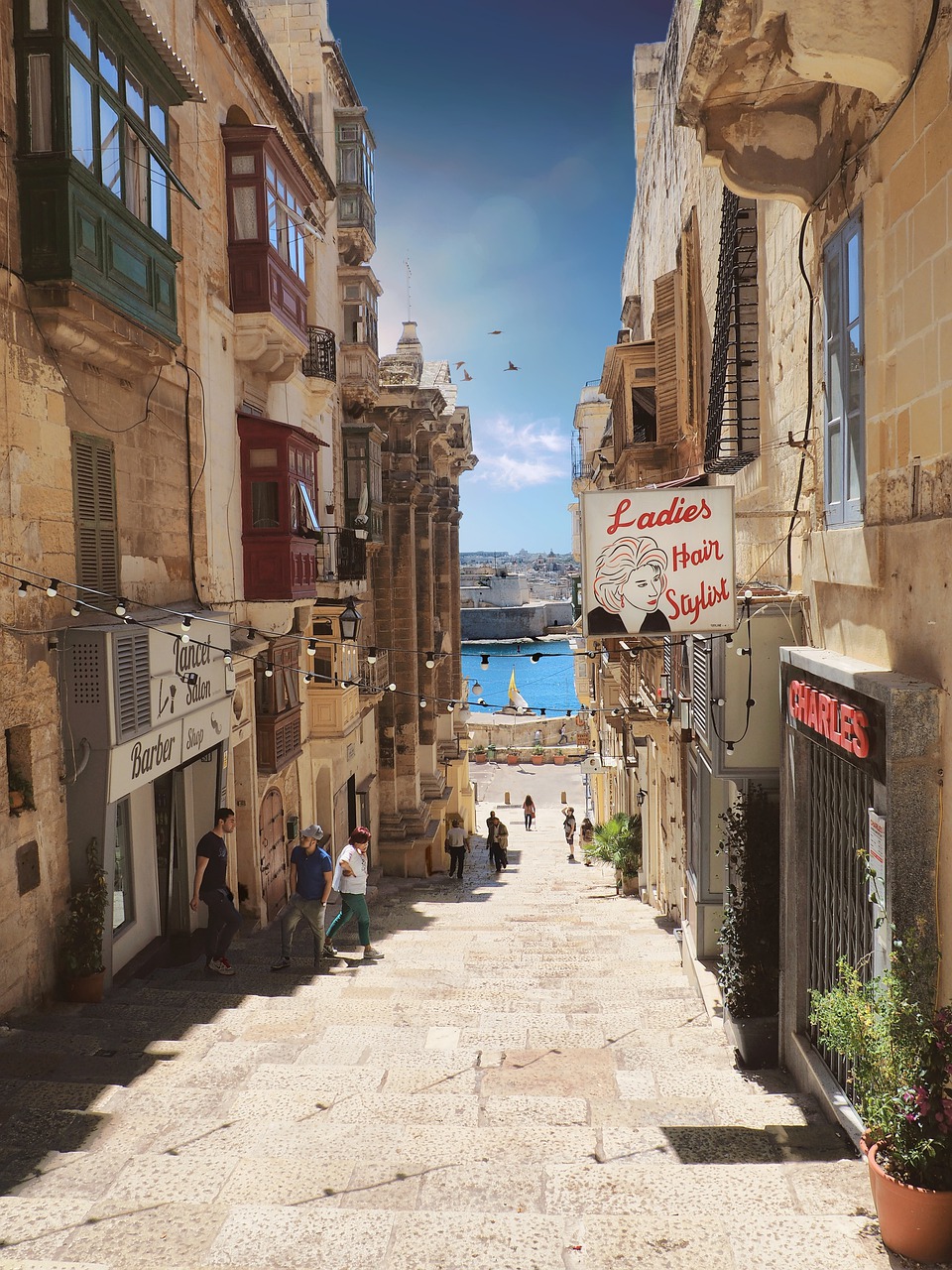 4 | Popeye Village
Have a stop at Popeye Village. You can admire the village from the road, or you can visit the site. Keep in mind that the visit is not free. We decided to admire it from the road, as the view was not that bad! That village was built especially for the needs of a shoot. In 1980, it served as the setting for the film Popeye with actor Robin William.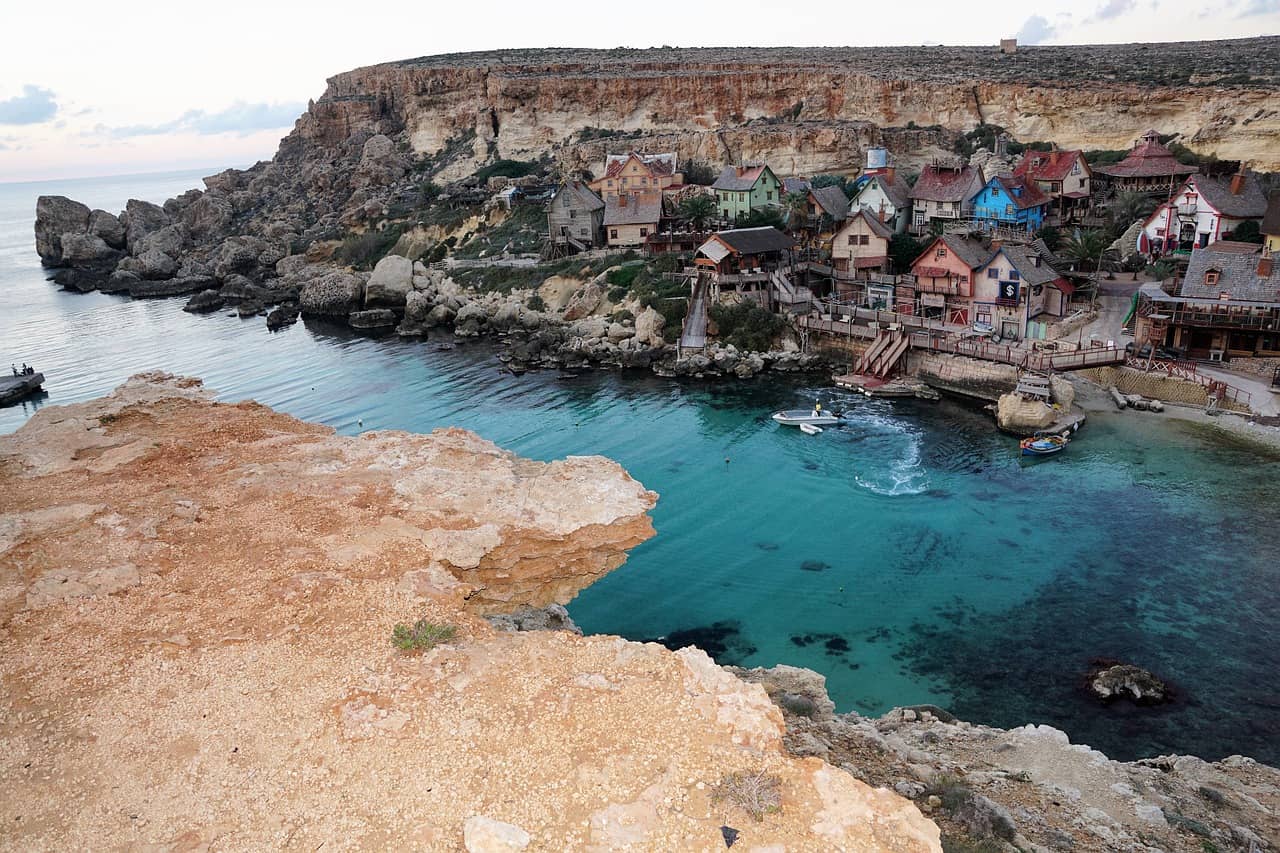 5 | Digli Cliffs
Have a stop at the Digli cliffs, which is situated on the west coast of Malta, and admire the impressive cliffs.
The road along the coast is laid out to follow the cliffs, with several viewpoints. Benches are installed all along the walk and allow to get closer to the shore.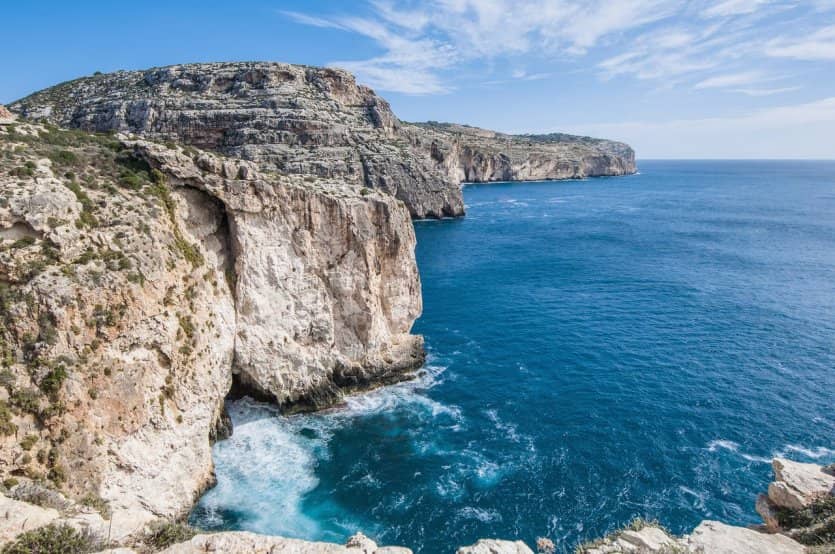 6 | Mdina
Have a stop at Mdina. It's a very medieval town, where some scenes from the first season of Game of Thrones were filmed. We really like to walk in the small alleys of Mdina. It's like going back in time.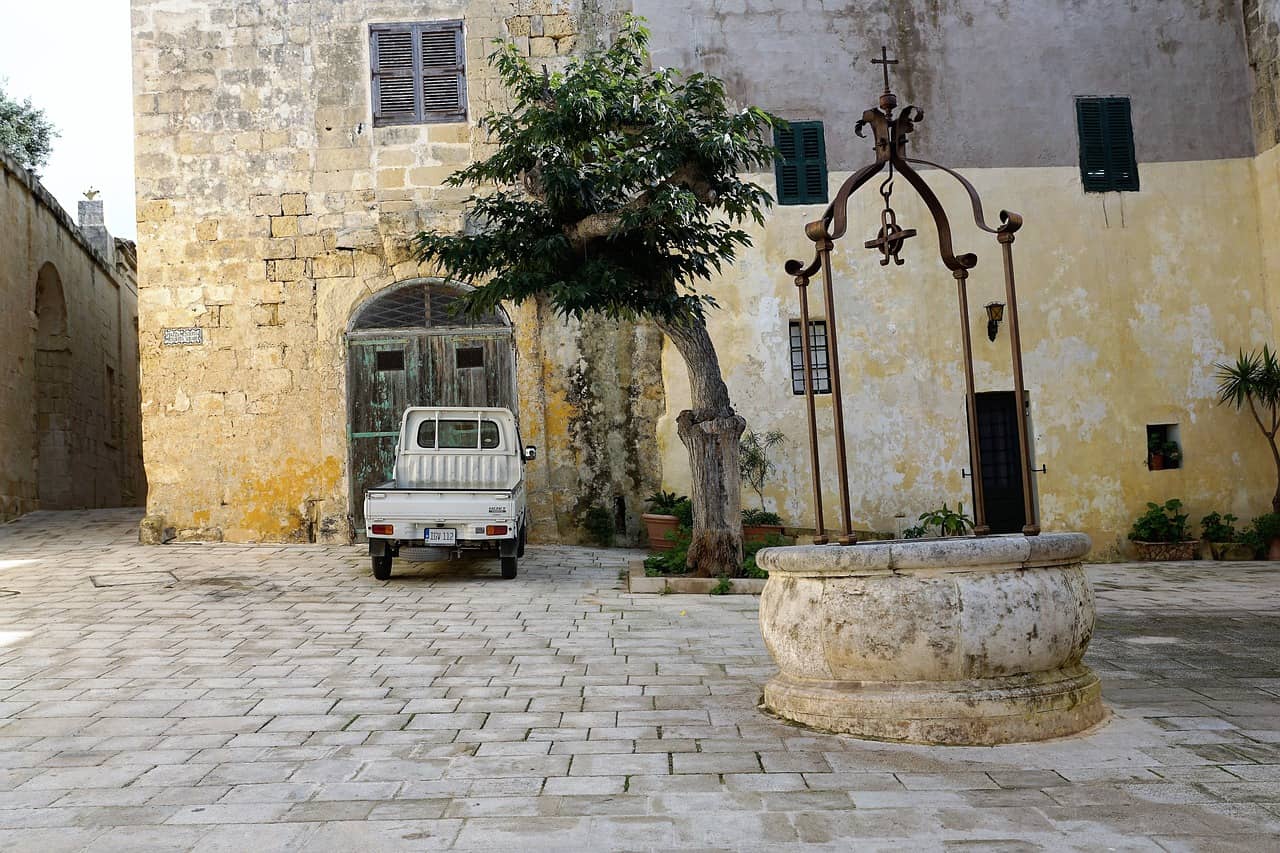 7 | Blue Grotto
Have a stop at the Blue Grotto. There are a series of caves accessible only by boat. Due to the wind that day, we couldn't visit the Blue Grotto, but we had a good view from where we stopped. 🤩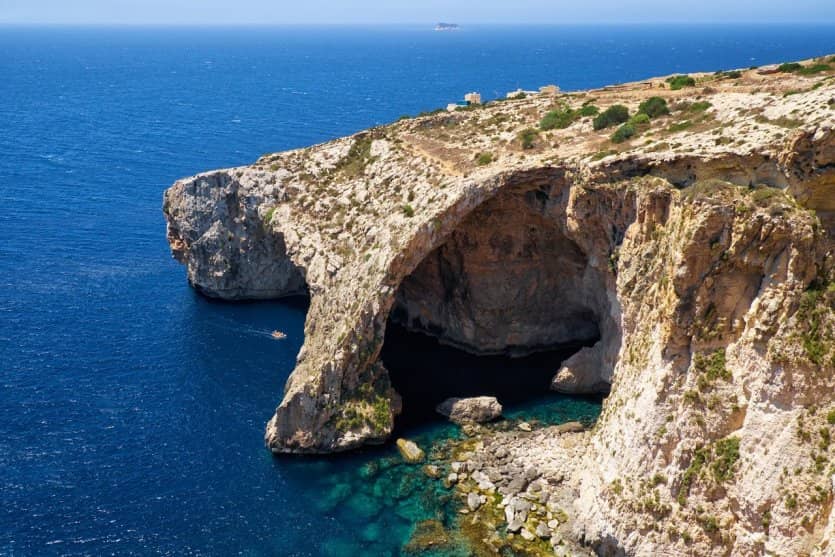 8 | St. Peter's pool
St. Peter's Pool is one of the most beautiful and stunning natural swimming pools in Malta and is located close to Marsaxlokk.
Be sure to bring everything you need for a day out, as there are no facilities. This natural pool is not always suitable for young children, and trash can float in on windy days. Nevertheless, the beautiful St. Peter's Pool is a real treat for those looking for a special place outside of the busy tourist areas.
Parking: There is a parking lot at the top of the cliff, but the road to it is very bad. It is recommended to park on the main road.
9 | Maltese night-life
Paceville is the place to be! It is a street with a lot of bars and clubs. We enjoyed having some evening there. Not far from here is situated the neighborhood of San Giljan. That is also a place with lot of restaurants. A recommender!
Activities in Malta
Discover below some activities to do in Malta during your stay.
My restaurant tips in Malta
A typical Maltese restaurant we can recommend you is Nenu The Artisan Baker in the center of Valletta.
If you are looking for a beach, try the Golden bay beach, which is a nice sandy beach next to the Radisson Blue resort.
Hugo's Terrace & Rooftop is a nice place for a drink or lunch (very good salad!) in front of st Georges's bay.
---
I hope this article about the things to do on the island of Malta will help you prepare your visit! If you have any questions, feel free to ask me in the comments of the article. I will be happy to answer them.
Read also more about the island of Gozo and Comino in this article.
Pin it!