Milos, the little jewel of the Cyclades
The Island of Milos is one of the most exotic and laid-back Greek islands in Greece! Sitting in the heart of the Aegean Sea, overlooking the Cyclades archipelago, Milos has enchanted many with its unpretentious charm!
Milos is also a volcanic Island like Santorini, but less popular than her cousin. However, the island has gained popularity in the past few years for its unique beaches, picturesque fishing village, local food, and general laid-back atmosphere.
In other words, Milos got our heart. It was a pleasant surprise and really enjoyed to spent time in here. Read more in this article about my Milos Island, its beaches and things to see.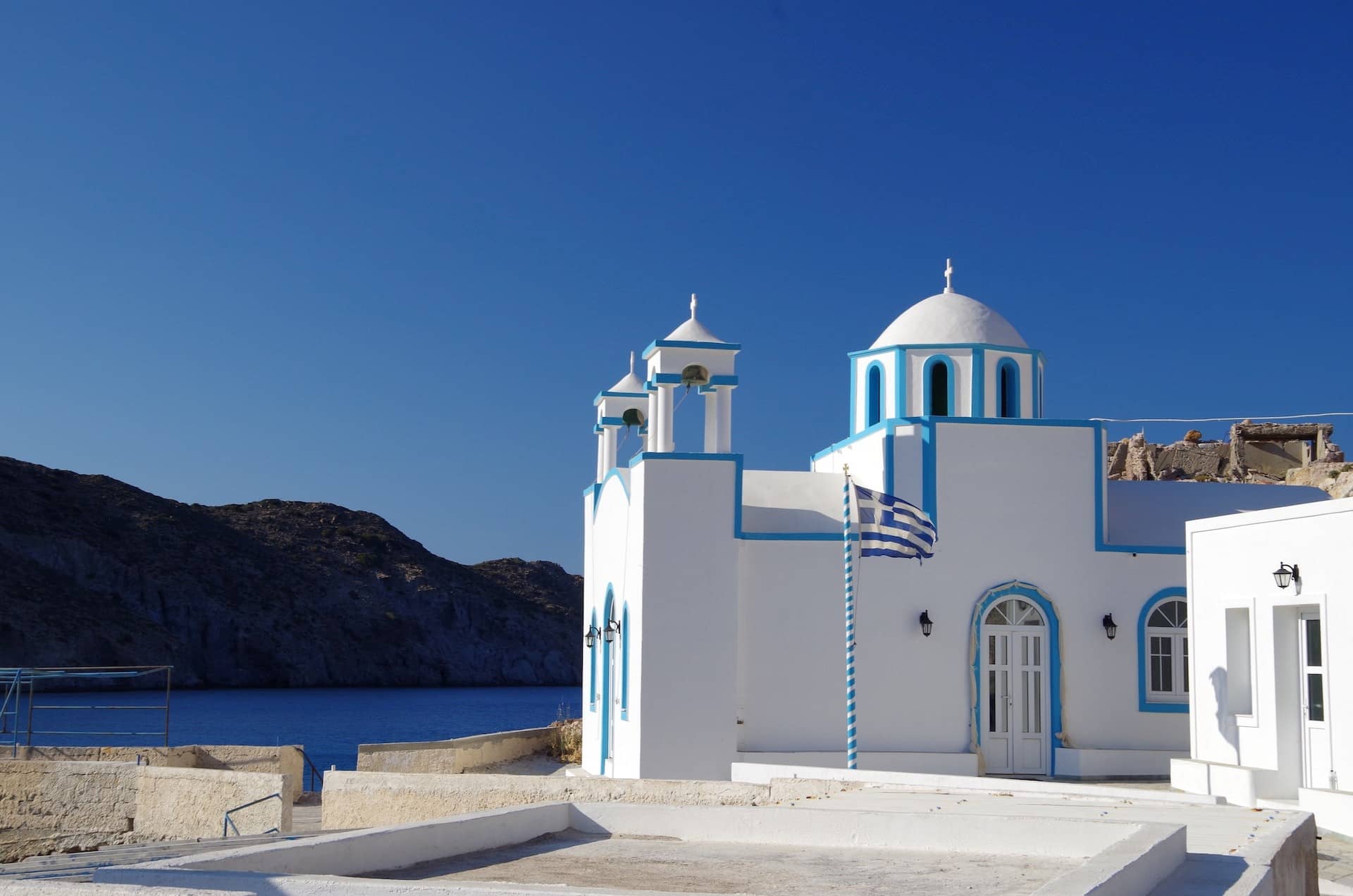 Transportation and accommodation
How to get in Milos and how to move around ? ⛴
Most of the time peoples arrive in Milos by boat from Athens or other Greek islands as there is no main airport on the island.
We arrived by boat from Santorini, and it was the worst sea trip of our life! The sea was very agitated and despite that, the boat continued at full speed. People in the boat were throwing up, it was so horrible! 🤢 If you are planning to visit the Cyclades, take into account that the boat trips can be very hectic.
To move around Milos, the best thing to do is to rent an ATV or scooter. It will be the easiest way to discover the island to its fully.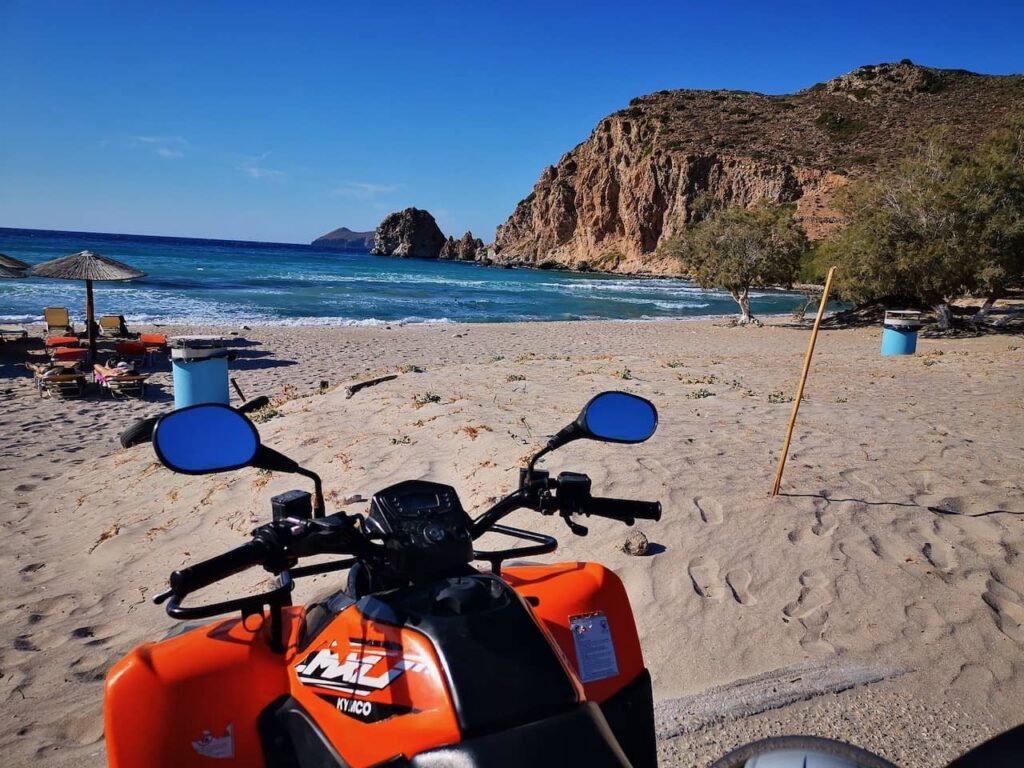 Accommodation in Milos
We stayed at Alexandros Village, which is located not far away from the center of Plaka and from port of Adamas. The hosts were friendly and helpful. We recommend you this hotel which has also a nice swimming pool.
Things to do in Milos
Milos beaches ⛱
Milos is famous for its amazing beaches, one of the things to do is to relax at some beaches. Here are some of the bests:
Sarakiniko beach, is certainly the most famous beach to discover in Milos. It's like walking on the moon, the landscape is simply awesome.
Tsigrado beach, is my favorite one. It's like a secret beach, a hidden beach. To get there, you have to go through a gorge and climb down a ladder, which makes it so secret. This beach is less crowded than the other ones and the water is crystal blue. It is also the perfect beach to relax and enjoy the magic of Milos.
Firopatomos beach, is a sandy beach in Milos surrounded by trees offering natural shade. We felt like being on a wild beach in Australia.
Fyriplaka beach, located between the other beaches of Provatas and Tsigrado, it is one of the most popular beach on the island of Milos.
Provotas beach, is another fabulous beach and is not too crowded.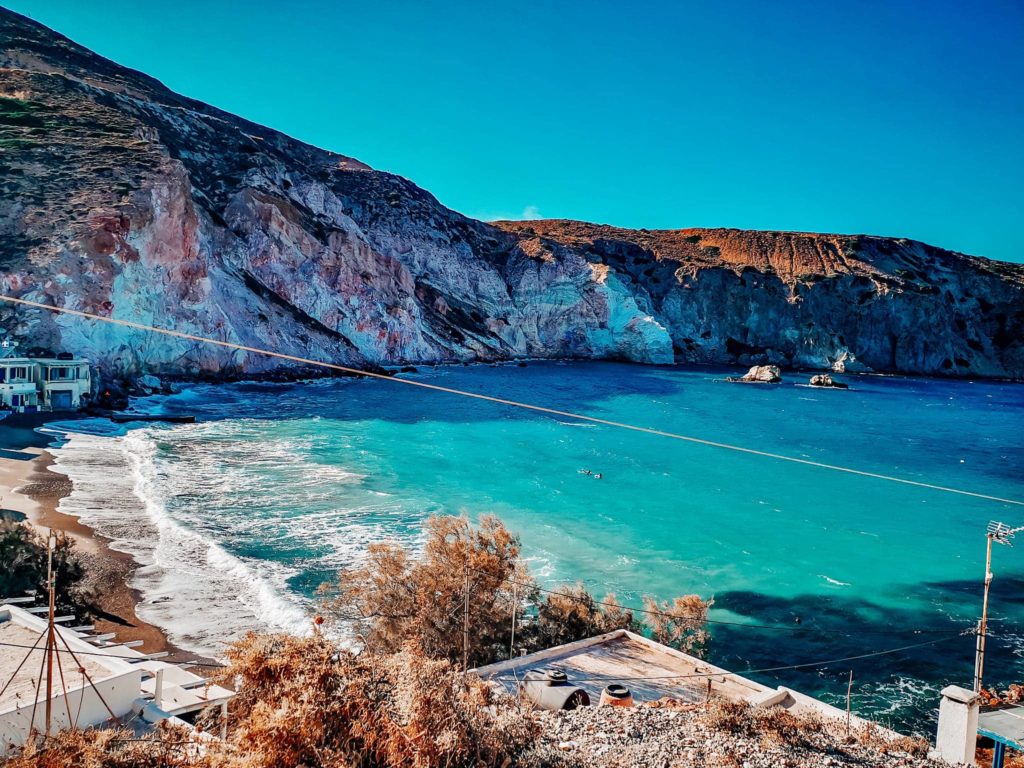 Milos and its picturesque fishing villages
When in Milos, another thing to do, is to visit the beautiful typical little fishing villages.
Fishing village of Klima
Klima is an incredible fishing village. This colorful village tops every must-see list. A long strip of traditional multicolored fishermen's houses, called "syrmatas", stretches along the bay of Milos.
The village is divided in two by the only seaside restaurant. The houses were initially painted in different colors so that they are easily recognized by their owners.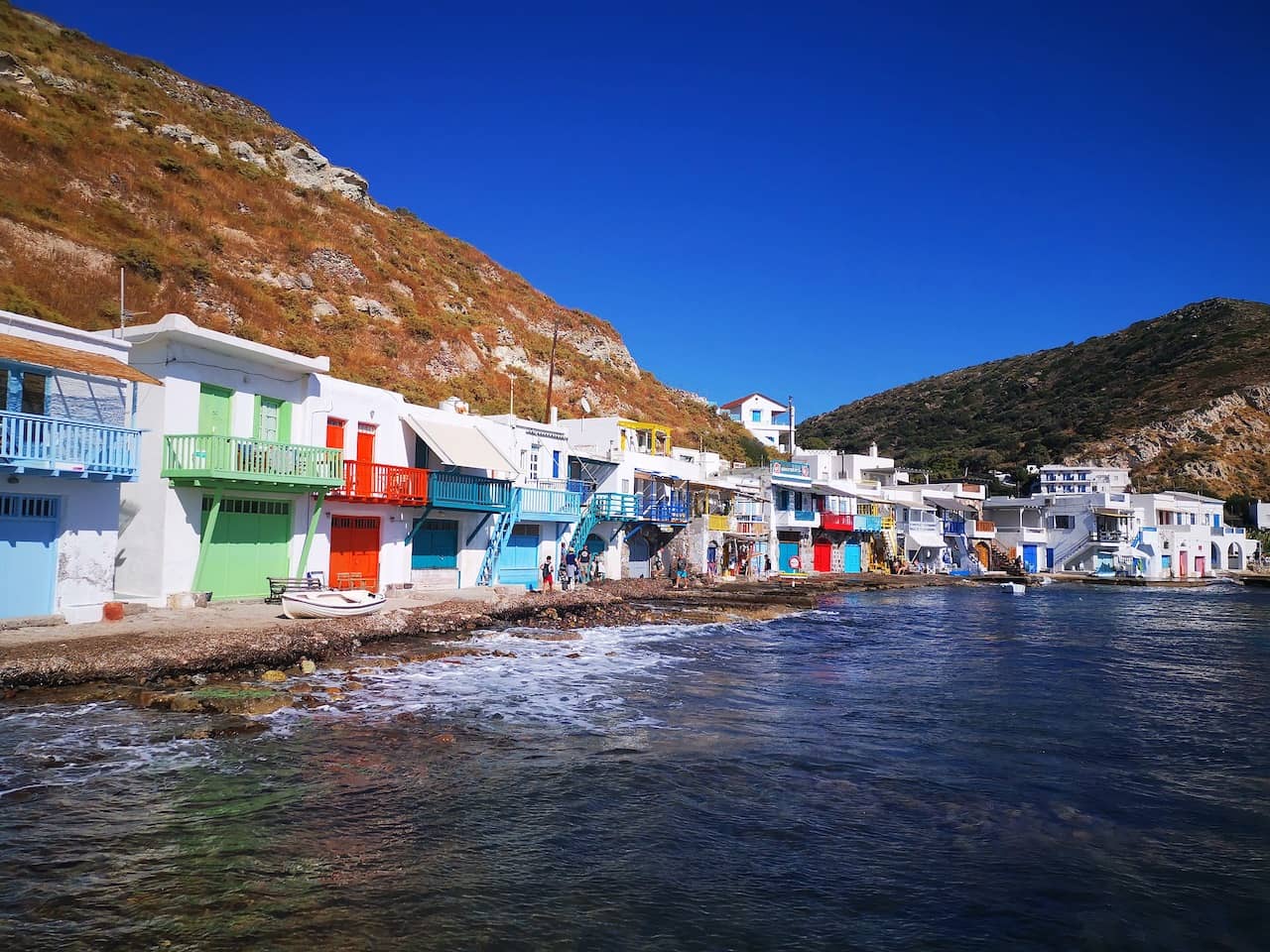 Fishing village of Mandrakia
Mandrakia is another beautiful village, located just 4 kilometers from Plaka — here, you'll find beautiful little houses carved from rocks surrounding the port, which is worth the detour.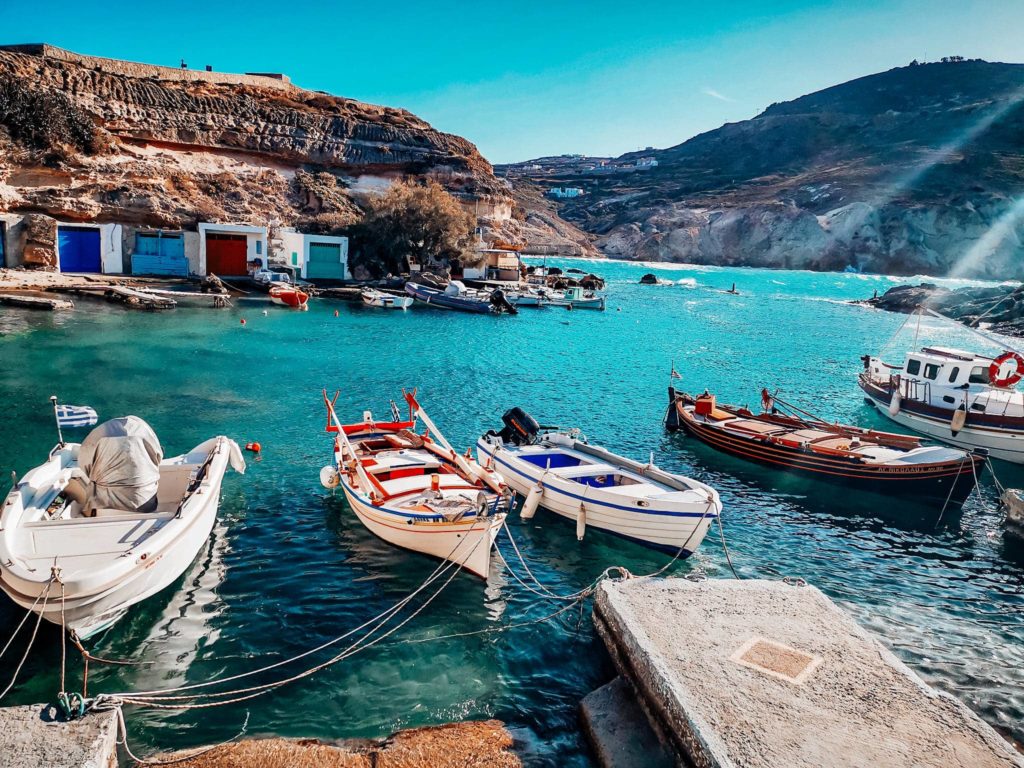 Village of Plaka
Plaka is the beautiful capital of Milos. It is a real Cycladic town, with narrow cobbled streets, whitewashed houses and churches and a Venetian castle. You will find a nice selection of restaurants, cafés and bars, as well as souvenir stores and some museums.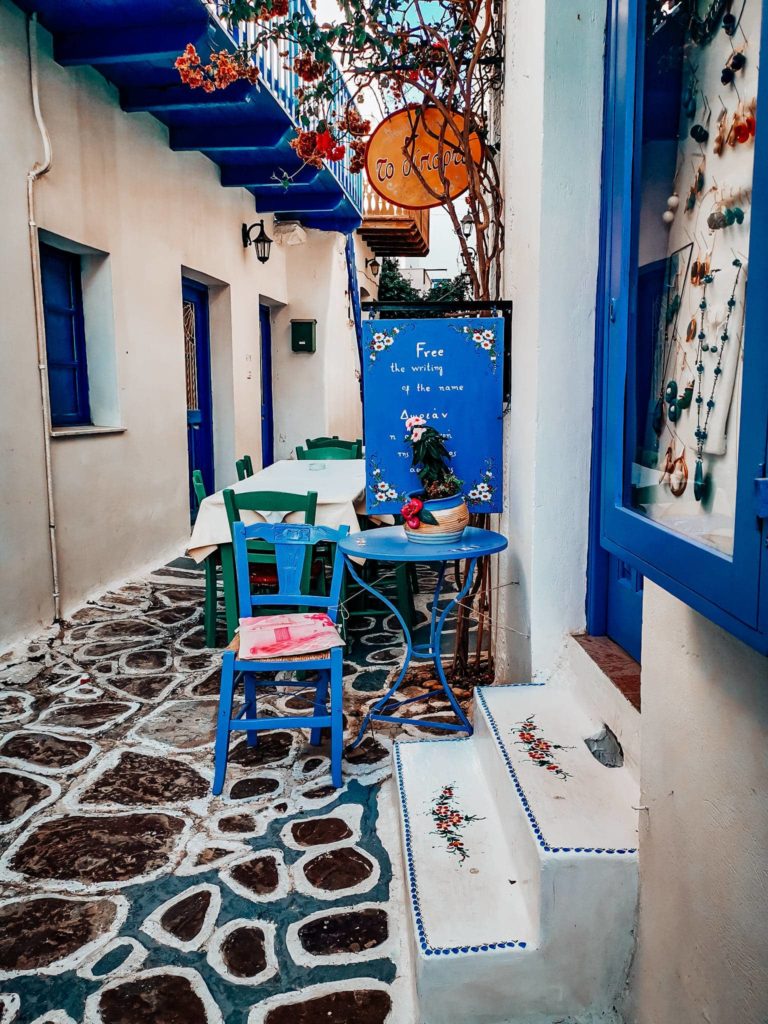 Village of Adamas
Adamas is one of the main towns of Milos and where most travelers will pass in and out of, because this is where the ferries arrive and depart from the island. The port of Adamas also has many cafés, restaurants, and shops around.
Village of Pollonia
The village of Pollonia is a picturesque fishing village on the northeast side of Milos Island, a quiet tourist resorts. We had lunch here and it was nice.
Where to watch the sunset in Milos?
From the Plaka castle : Walk to the Plaka castle to admire the sunset. We enjoyed an amazing sunset here.
From Utopia Café : Another address is from the Utopia Café in Plaka. From there you can enjoy the sunset with a good cocktail. 🍹
From the church Panagia Thalassitra. It is the most photographed church of the island.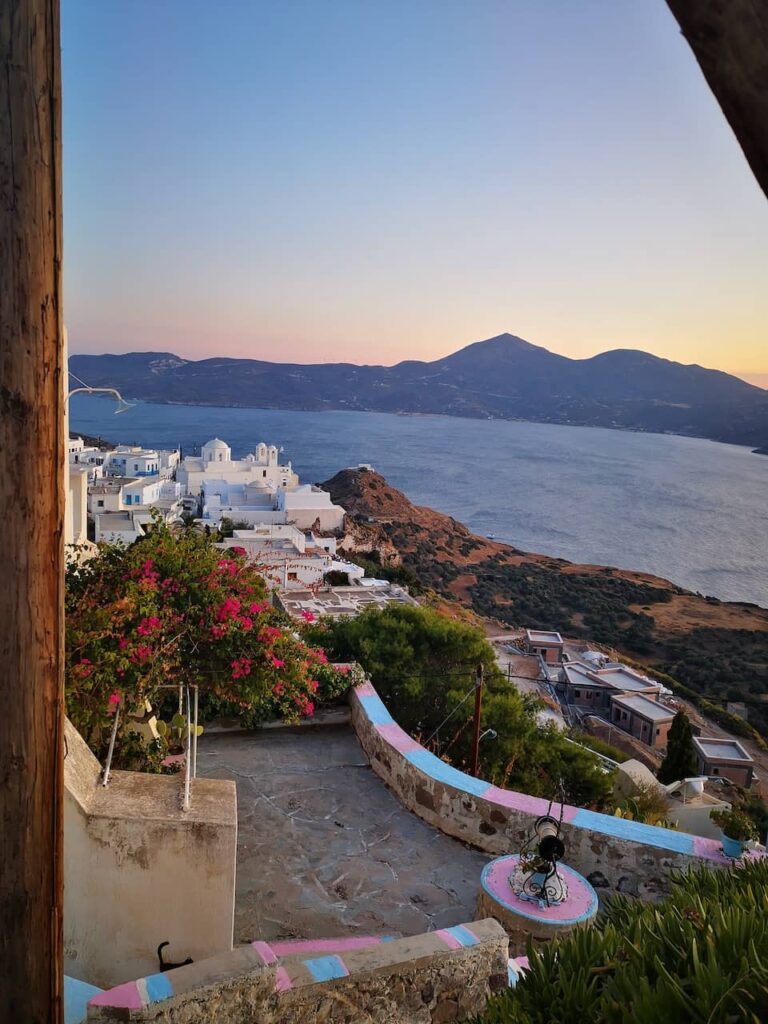 Other things to see in Milos ✔️
Here are some other activities to do in Milos, that we have not had the opportunity to do in our 3 days here.
Take a Boat Tour to Kleftiko.
If interested, visit the Catacombs of Milos.
My restaurants recommendations in Milos
Klima: Astakas café restaurant. This is a good fish restaurant with a nice sea view over Klima. We really enjoyed our lunch here.
Pollonia: Rifaki, located by the sea.
Plaka: Archontoula restaurant, which was recommended by our host.
Have dinner or lunch at 'Medousa' restaurant. We didn't have the occasion to eat there, but it is one of the best reviewed restaurant of the island and people come from all around the island to eat here.
---
Looking for more trips in the Cyclades? Read my articles about Santorini and Mykonos.
I hope my 3 days in Milos and the things to see helps you to organize your future trip. Do not hesitate to leave a comment !
Pin it!