2 weeks Greek road trip through Greece 💙
During the summer of 2016, which is in the meantime a while ago, we went on a Greek road trip for 2 weeks. The main reason of our trip to Greece was at the first place for the wedding of a friend, who married in the north of Greece. 😍
Our first stop on this road trip was the city of Thessaloniki for 2 days, as it here we landed. Then we took the road to the Chalkidiki region, followed by the city of Alexandropoli. The wedding took place in the Alexandropoli region.
After the wedding, we returned to Athens to make a round trip and take the ferry to the island of Mykonos for 4 days.
We finally went back to Athens to catch our flight back!
Here's an overview of our 2 weeks Greek road trip.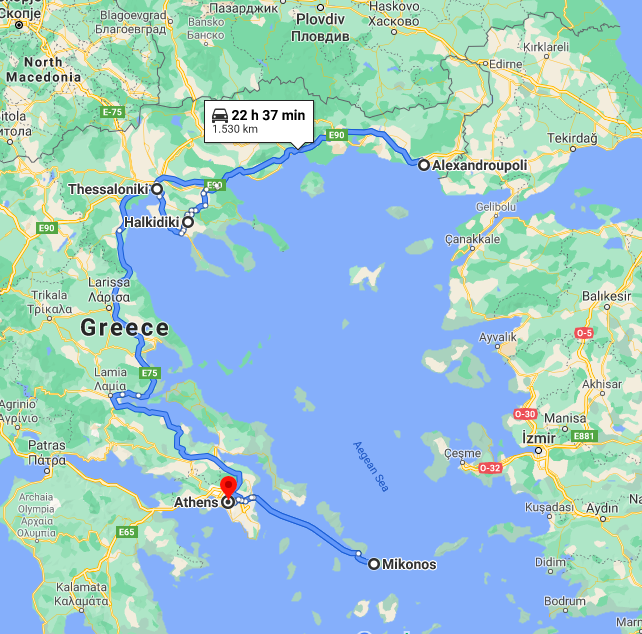 Day 1 and 2 – Thessaloniki
We enjoyed the city of Thessaloniki. This is the second-largest city in Greece, and is a modern metropolis bearing the marks of its stormy history, and its cosmopolitan character, which gives it a special beauty and charm.
What are the 6 Things to do in Thessaloniki?
1 | The white tower
It is the most iconic monument of the city. Have a visit to the tower's top floor.
From here, you will admire a beautiful 360° view of the city, the sea and even Mount Olympus, Greece's highest summit.
2 | Thessaloniki Waterfront
Here, you can walk on a 5-km long promenade on the seaside.
On the seaside, you will find many bars and restaurants frequented by locals and tourists alike: the place is really vibrant! Don't miss 'The Umbrellas', a modern sculpture located in the park, about 500 m away from the White Tower.
3 | Rent a bike
We hired bikes because we found it a great way to explore the city. You can also cycle on the cycle path along the seafront. There are many bike rental shops nearby, you can't miss them.
4 | Thessaloniki's markets
Have a visit to Modiano and Kapani markets! A great way for foreigners to see the locals of Thessaloniki out and about, would be to visit the markets of Kapani and Modiano.
Most of the covered Modiano Market is made up of food stores selling items ranging from delicatessen, fish, meat and spices. That traditional market has early-20th century architecture and is a must-visit even for those not looking to purchase any items.
Located just a few minutes away, near Aristotelous Square, is the historic Kapani Market. Known to be the oldest open market of Thessaloniki, the lively Kapani Market is traditional and therefore offers visitors an incredibly unique experience. Visitors will find fresh fish here, along with spices, fresh coffee, milk products and so much more, at reasonable rates.
5 | Shopping
Shopping is one thing that you will definitely enjoy during your stay in Thessaloniki. The city offers plenty of options so that no taste or wallet is left unsatisfied.
One of the main shopping streets is 'Tsimiski Avenue'. Tsimiski is a 1.2 km long Avenue in the heart of Thessaloniki.
Another street is 'Mitropoleos Avenue', almost parallel to 'Tsimiski Avenue' but has lesser extent. This road, along with 'Ermou Street' and 'Proxenou Koromila Street', are a much more expensive choice as it concerns fashion.
On 'Mitropoleos Street' the visitor will discover some of the city's famous pastries, branches of internationally known fashion brands and smaller boutiques.
'Agia Sofia Street' should also not be missed when it comes to shopping. Some less expensive fashion stores selling stylish clothes and accessories and one or two modern cafés and pastries lie in this area.
6 | The Archaeological Sites
If you're a history and archaeology lover, then you should visit some of the Thessaloniki's most famous ancient sites.
Day 3 and 4 – Chalkidiki
After Thessaloniki, we went to Chalkidiki, which is a region in northern Greece known for its immense peninsulas, covered with Mediterranean forests ending in sandy beaches and protected bays.
Kassandra, the westernmost peninsula, is also the most developed: it hosts modern nightclubs and beach resorts. It's a little paradise to rest and have fun! 😎
We stayed at the Blue Bay hotel booked via booking.com. The view over the sea is splendid!
Day 5 and 6 – Alexandropoli (Greek wedding)
Regarding Alexandropoli, we did not like the city. We did not spend a lot of time in that city, as it served us as our accommodation to go to my friend's Greek wedding which was in the town of Sapes, around 30 minutes drive from there.
Day 7 and 8 – Athens
Our last stop on continental Greece was Athens. Our first impression of the city was mixed.
There are nice places to see in Athens, but is not my favorite city. I was happy to spend only 2 nights because that city really stressed me out.
It's a very oppressive city. This remains a personal opinion and can be different from yours, of course! 😉
Day 9 to 12 – Mykonos
Mykonos is the island you need to be for some parties associated with beautiful beaches.
Mykonos is one of the most popular tourist destinations of the Greek islands, Cyclades. It is well-known for its beautiful beaches, luxurious resorts, summer party atmosphere and wild nightlife