The most famous island of the Cyclades 💙
Santorini is one of the most beautiful and photogenic islands in the world and offers one of the most striking natural sights in the Mediterranean. Arrival in Santorini by boat is unforgettable. In front of you stands a sheer cliff 200 to 300 m high.
What also defined Santorini is its small alleys with its white houses located on the cliffs, its spectacular landscapes and its breathtaking sunsets. 🤩
In my opinion, the island of Santorini fully deserves its reputation as a mythical island. However, keep in mind that Santorini is victim of mass tourism, which means that I highly recommend you not going during high season.
We went at the end of September, and it was still crowded. We didn't expect so many tourists and did not like that part of the island. The memory I keep of Santorini is that it's an absolutely magnificent island, but way too touristic. It's in my opinion also a bit superficial. We really felt like people were pushing for the best sunset shot.
We stayed 4 days in Santorini, combining it with the island of Milos. It seemed to us enough to visit the main sights of the island.
In this article, I describe my 4 days in Santorini and its things to do.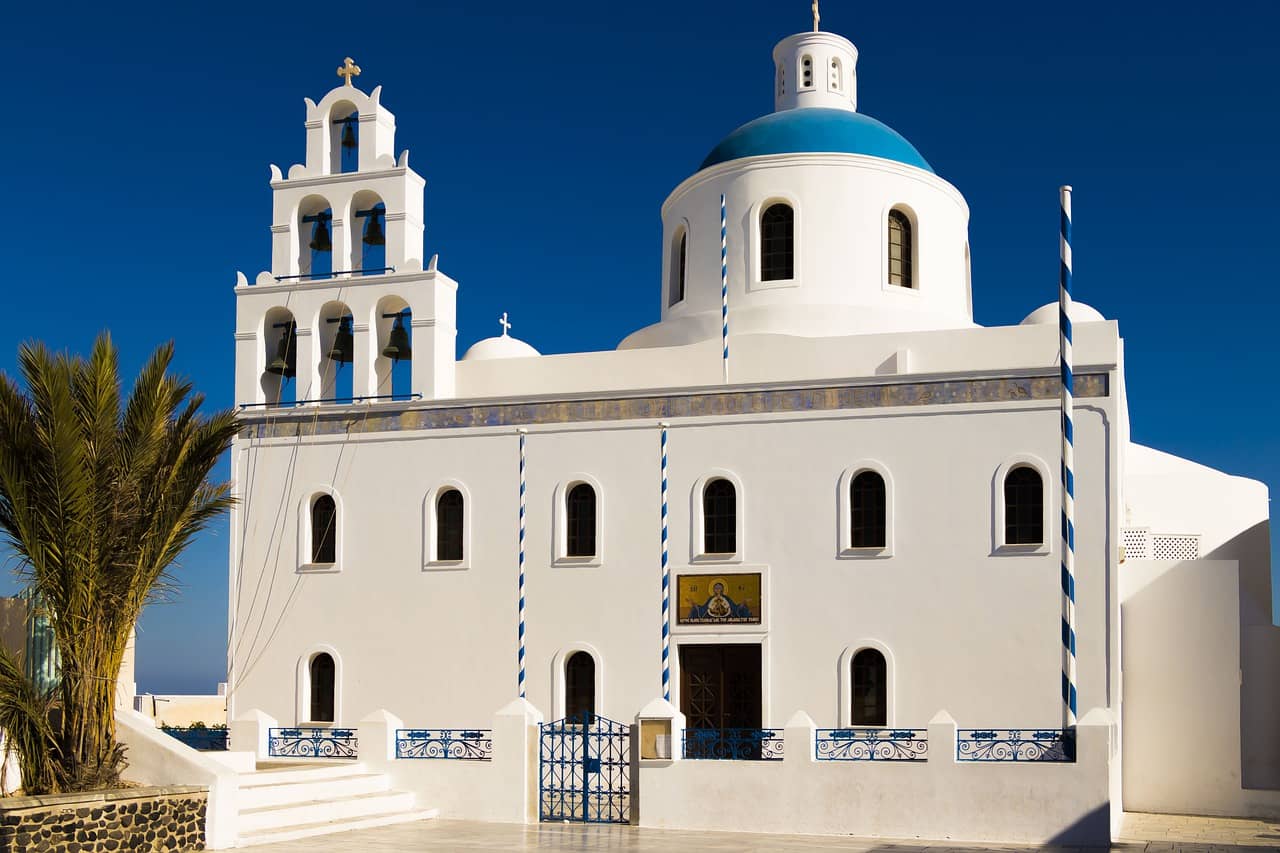 Transportation and accommodation in Santorini
How to move around Santorini ? 🛵
We rented a scooter during our 4 days stay. It is an easier way to move around as the roads can be often busy, especially in the evenings.
Even to park, it is way simpler with a scooter rather than a car. If you are comfortable driving an ATV or scooter, I recommend you to move around that way. Below is a map of Santorini to give you a clearer view of the island.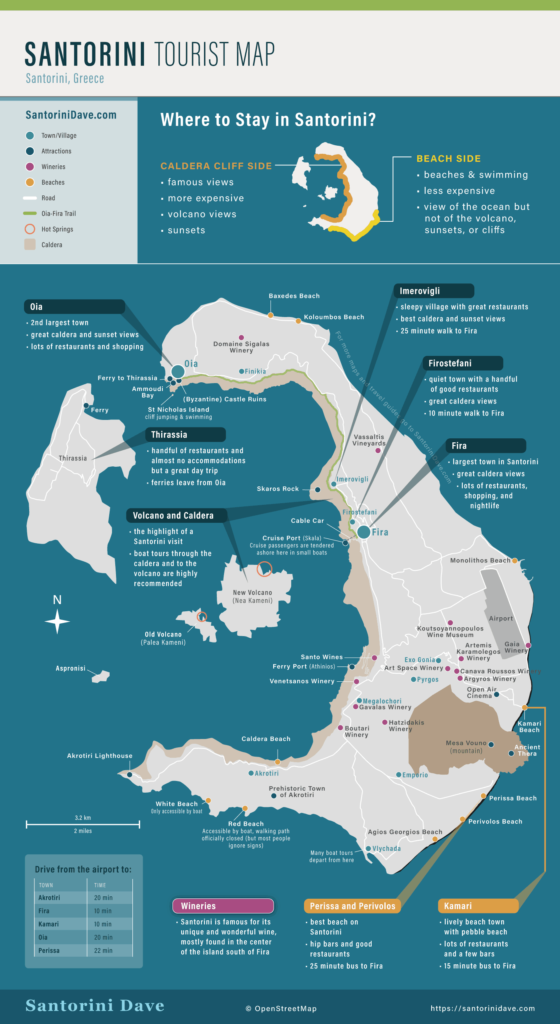 Where we stayed in Santorini ?
We stayed a total of 4 days in Santorini. 4 days seemed sufficient to us to see the main things of the island. Due to the high prices and our last minute decision, we booked a hotel in the south of the island, more precisely in Perissa (see cart on the right below).
We were not disappointed at all as that place in Santorini is less touristy, quieter, located by the sea and has a black sand beach. It also has a small dike with restaurants and bars. The center of Fira and Oia are located about 30 minutes from there.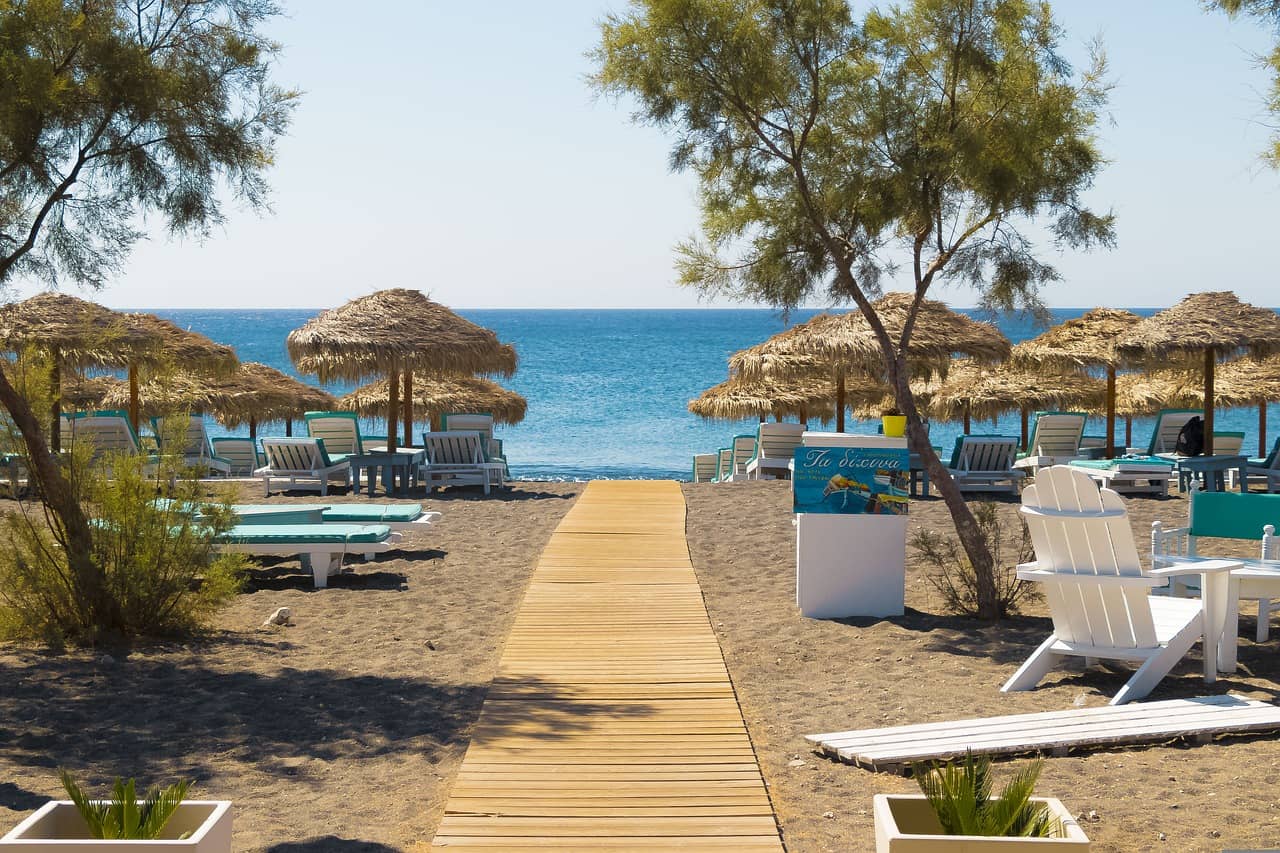 If you prefer staying more close to the main towns of Santorini, we recommend you to stay in Imerovigli as it is less touristy. If you don't mind the crowd, Fira is in general cheaper than Oia. Oia has many more small, upscale accommodations.
Things to do in Santorini
1 | The Fira-Oia hike
The Fira-Oia hike is a must. The hike from Fira to Oia is one of the best free experiences in Santorini. Recommended by almost all guidebooks, this walk is a postcard-perfect experience: explore the villages of Oia, Imerovigli, Firostefani and Fira while enjoying some of the most beautiful views of the island.
Just over 10 km long, the trail is a mix of paved pedestrian streets and dirt roads. It is relatively hilly with really little shade, so plan to start early in the day if you are doing it in the summer.
On the way, you have the possibility to make a detour to Skaros Rock. If you wish, you can make the detour to Skaros Rock. This adds 40 to 60 minutes to your hike, and you just have to continue on the footpath.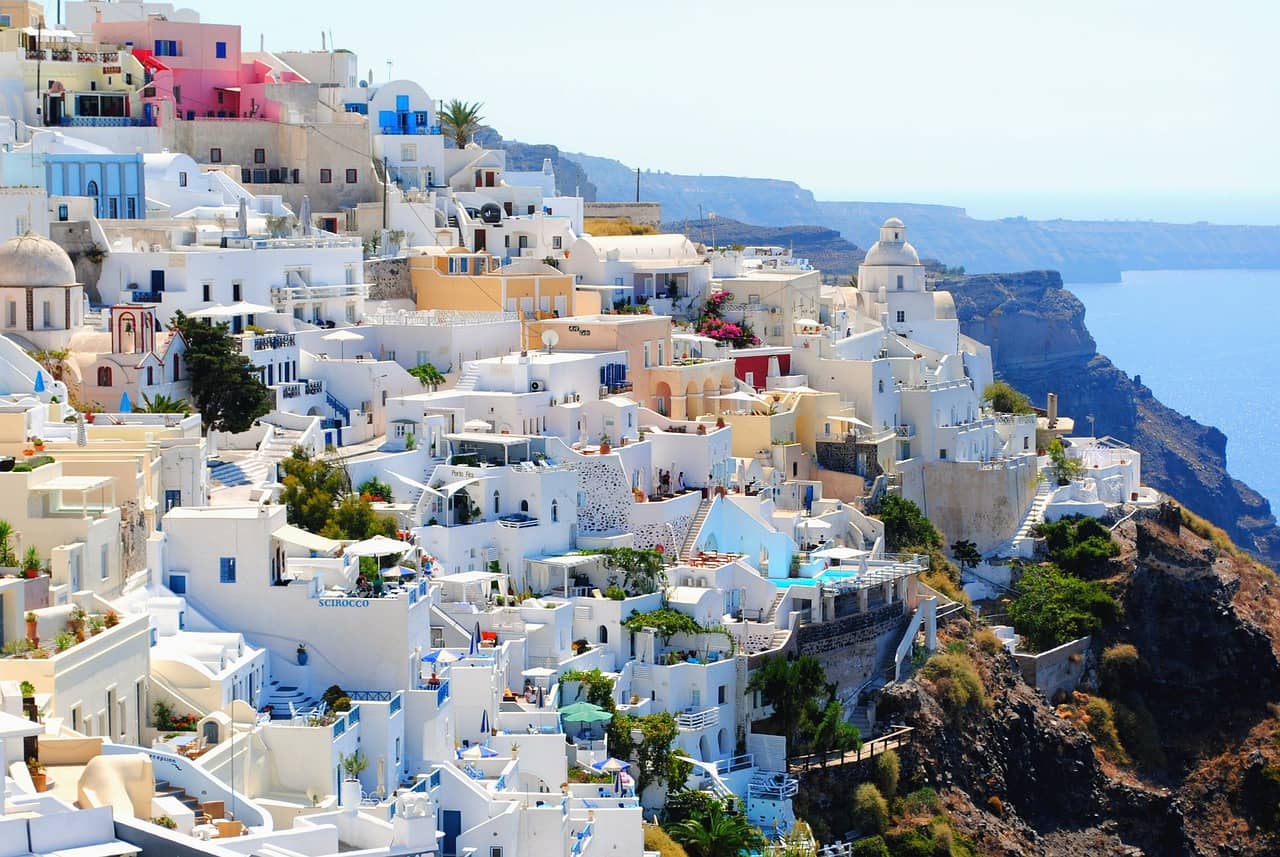 2 | Visit Fira & Oia
Fira and Oia are the two most famous villages of Santorini. Fira is the capital of Santorini. Oia is the more luxurious village with romantic restaurants and high-end shopping. It is a real living postcard: it is the backdrop for all postcards with its whitewashed buildings, windmills and blue ocean. The sunsets from Oia are known worldwide and are among the most beautiful in Europe.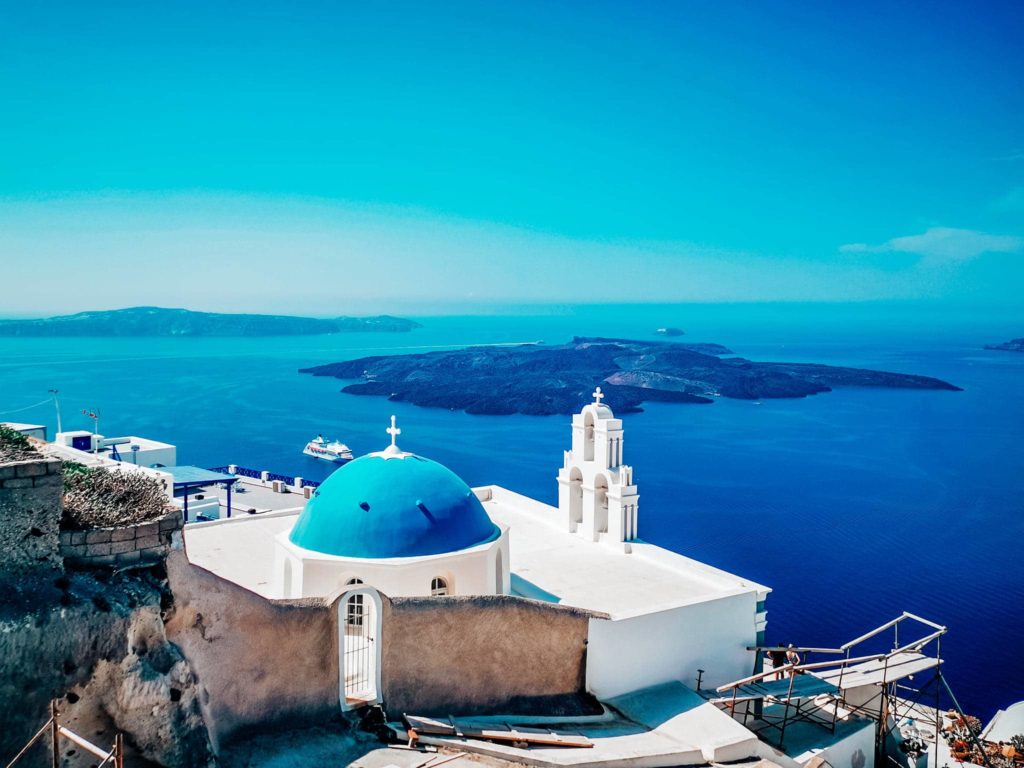 3 | Sunset in Oia
One of the best things to do in Santorini is of course watching the sunset. Here are two options.
From Oia Castle: If you don't mind being surrounded by people, we recommend you to go and watch the sunset in Oia, from Oia Castle. We went there the day we arrived, and we were immediately overwhelmed by the crowd. It was crazy, and yet we were already at the end of September, so not really in the tourist season. It made us a little chilled, but despite that, the view is breathtaking! 😍
Sunset on the blue domes : You can also go from this viewpoint, 36°27'40.7″N 25°22'33.9″E, located not far from the castle of Oia.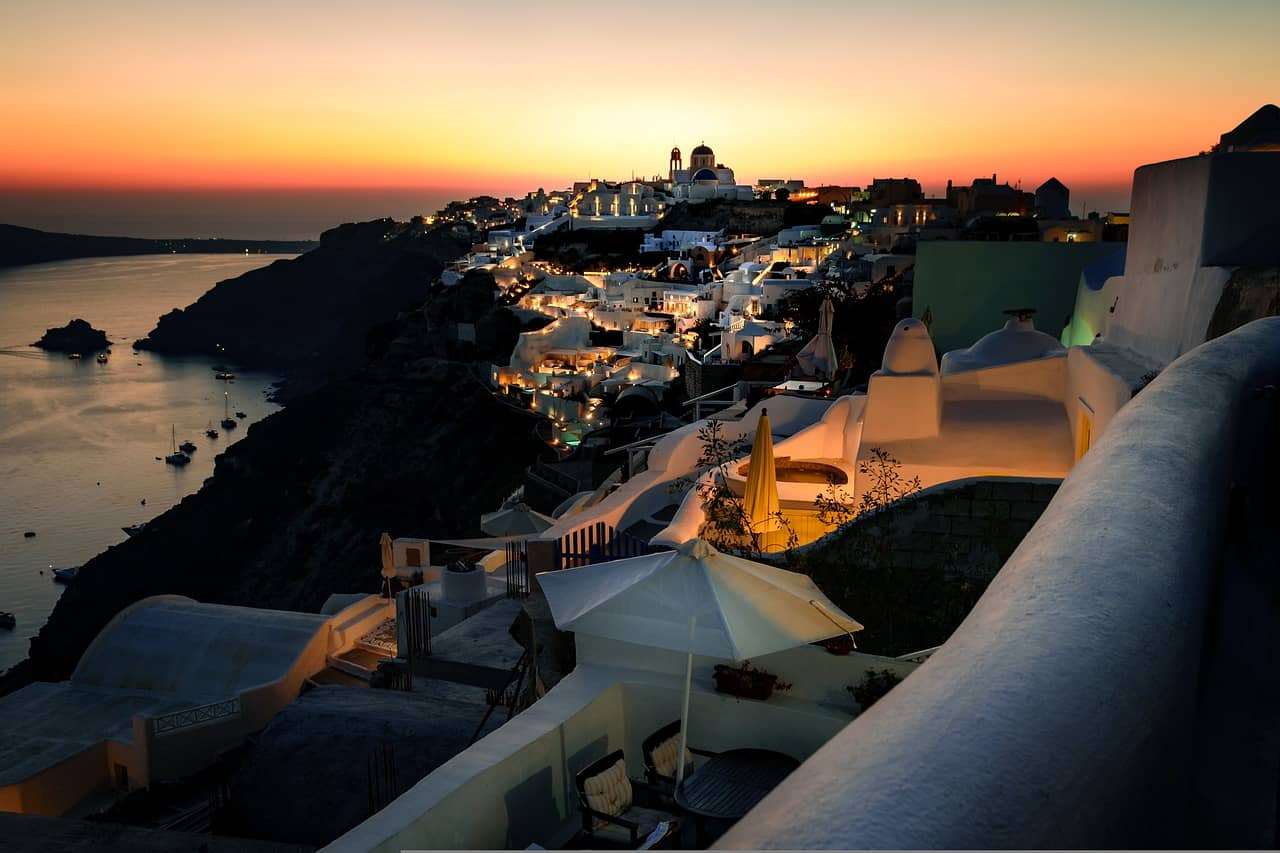 Be aware that if you are going to eat in the evening after sunset, a lot of restaurants will be fully booked. We recommend you to look some restaurants in advance and book some of them.
You can also always ask your hotel for some tips. We did not have a good souvenir of Santorini's food, that's why I am not able to recommend you some restaurants. There are way too much catch tourist restaurants, so please try to avoid them.
4 | Pirgos village
Having a visit at this cute little village is a must! Pirgos is less touristic than Oia and Fira, and very cute. We loved this place away from the crowd.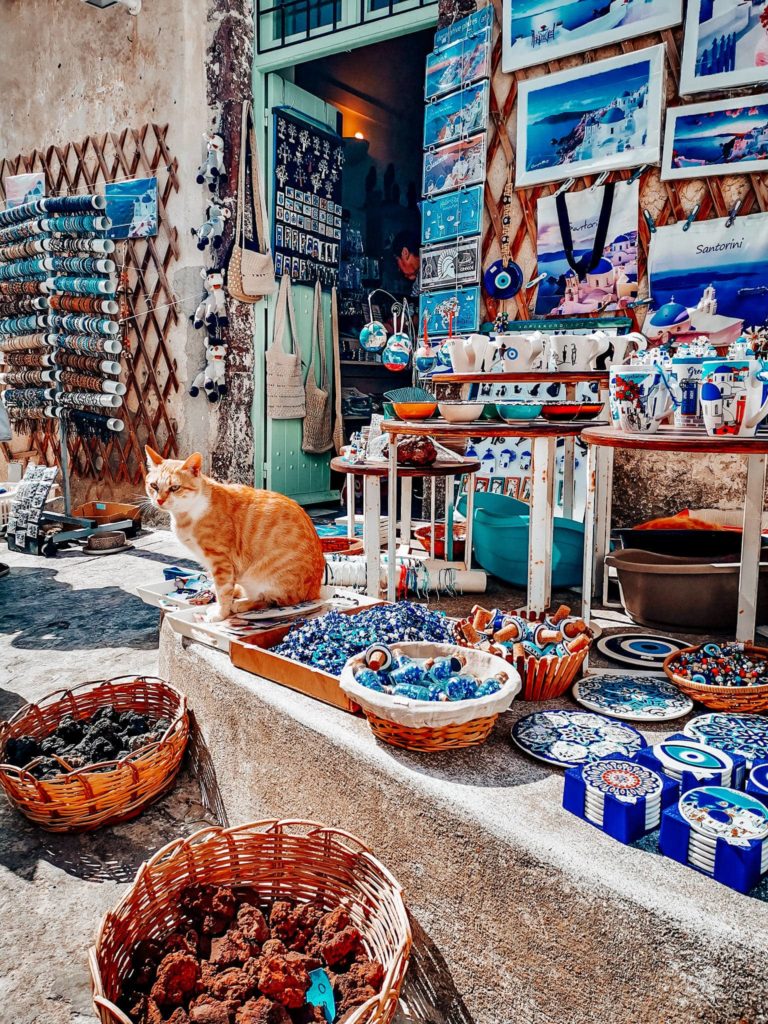 5 | Akrotiri lighthouse
If you want to watch the sunset from a less touristic point of view than in Oia, I recommend you to go to the lighthouse of Akrotiri.
The lighthouse of Akrotiri on Santorini was built in 1892 and is among the most famous in the Cyclades. It is located at the top of a hill at the southwestern end of Santorini, at the edge of the caldera, about 18 kilometers from Fira.
Close to the most famous lighthouse in the Cyclades and several beaches including Red Beach, Akrotiri is without a doubt a place not to be missed on your next visit.
6 | Boat excursion
As we love to spend some time at sea during our holidays, we chose to spend a day to visit Santorini by sea, from a catamaran. We booked this with GetYourGuide. See some boat excursions below.
It was a whole day trip with drinks & BBQ included and stops at several must see places. We chose the semi-private formula (± 20 people onboard). Count more or less 95 euros/person for a 5 hours excursion with some swimming and snorkeling stops.
At the end of the day, we watched the sunset from the boat. The colors on the cliffs were just amazing. 🤩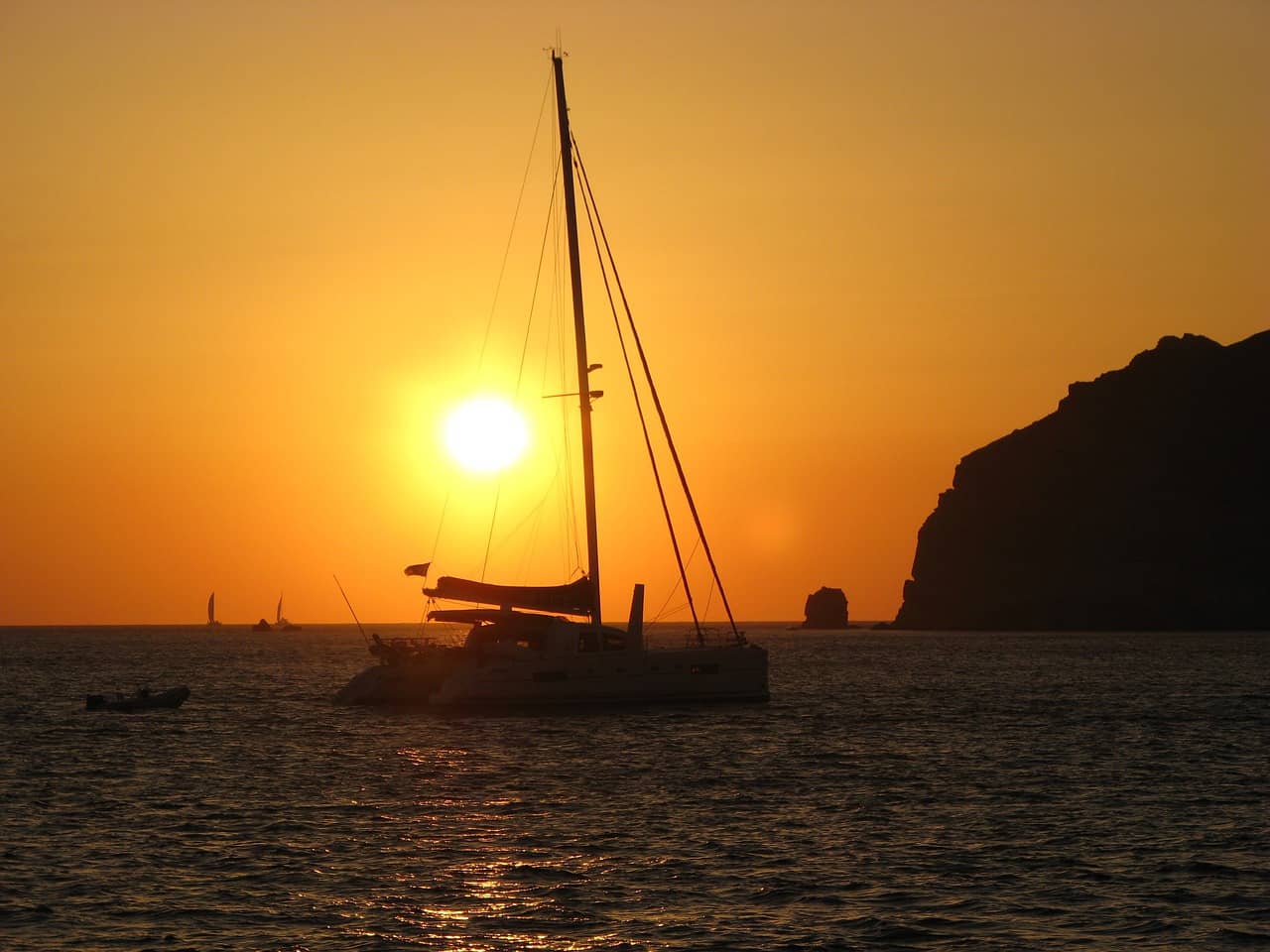 Santorini beaches: how to choose them?
Santorini's beaches are composed of volcanic sand and pebbles. Keep in mind that, they are not at all like the great, white sand beaches Greece is known for. We recommend you not to come to Santorini primarily for the beaches. Here are some of Santorini's beaches:
The red beach: Nestled between red rocks. We observed this beach from the boat, and it looks awesome.
The white beach: Is only reachable by boat. The beach offers beautiful black sand backed by striking white cliffs.
Vlychada beach: It is quite a long beach covered by dark gray sand. There are a number of loungers and a tavern behind.
Perivolos beach: This beach has some bars, restaurants and beach clubs.
Caldera beach: Is situated in Akrotiri.
Santorini island is a prominent destination, famous for its volcanic activity and the extraordinary black beaches that are a unique spectacle for all its visitors! Here are some of Santorini's black beaches:
The black sand beach of Perissa and Perivolos in Santorini, two vast beaches one after the other that create a long shore. Covered with black sand and pebbles and in contrast with the blue color of the clear waters, they constitute an idyllic location for their visitors and a great place to spend their holidays at.
Kamari Beach: Another famous black sand beach in Santorini, is Kamari beach. Separated from Perissa beach by Mesa Vouno Mountain and a 16-minute drive from Fira, Kamari beach is considered a beautiful place to relax with your family or friends.
My Santorini Tips
Rent a scooter or quad to visit the island, this will be the easiest way.
Have a boat day around the coast in order to discover the island from another perspective.
I do not recommend riding on donkeys. Unfortunately, these animals are not treated very well. 😥
If you are staying in Perissa, have breakfast or lunch at Santa Irini. It is delicious! 🤤
---
I hope you enjoyed reading these 4 days in Santorini and its things to do. We also combine Santorini with the island of Milos. Read more about Milos island. I also wrote an article about the island of Mykonos, which is also situated in the Cyclades.
Pin it!