Are you interested in a trip to Costa Rica? If yes, you are at the right address to find all kind of practical information about Costa Rica.
With its jungles, cloud forests, volcanoes, beaches, rainforests and abundant wildlife, Costa Rica is a little paradise for magical adventures, as well as for a relaxing vacation. It is often considered as one of the most biodiverse countries in the world, which makes it an ideal place for nature and wildlife lovers.
This country is in my opinion really worth visiting once in a lifetime. During all the trip, I was amazed by the beauty of its landscapes, its wildlife, its waterfalls, its amazing beaches, …🌴🤩
Here are some practical information to organize your trip to Costa Rica. ⬇️
When is the best time to visit Costa Rica ? ☀️
Dry season / rainy season
☀️ If you are coming to Costa Rica to escape the rain, the best months are from mid-December to the end of April, which is the dry season in Costa Rica.
☔ The rainy season is usually from mid-May to early December.
The weather is quite changeable depending on where you are. For example, when we went to Monteverde we lost 10 degrees, because this region is located in the mountains. In some regions, it will also rain more than by the coast, like regions around a volcano or mountains.
I visited Costa Rica mid-December and the weather was quite good. It rained a lot in the night, but most of the time it was sunny and hot in the day.
How to get around in Costa Rica ? 🚘
There are several options to get around the country, but the best one is to rent a car. See below why. ⬇️
Public transportation
Costa Rica's network of shared shuttles, and public transportation offers travelers many options for getting around the country. However, due to limited hours and expensive routes, renting a car is the best way to explore with freedom and flexibility.
Car Rental
We opted for a rental car to be flexible and free during the trip. The agency of our rental is called Jumbo Car. An agency that I highly recommend and whose prices were the least expensive compared to the ones of other rental companies. The service was top, a shuttle came to pick us up at the airport to bring us to the agency. Once there, everything went very quickly. The car we got was brand new.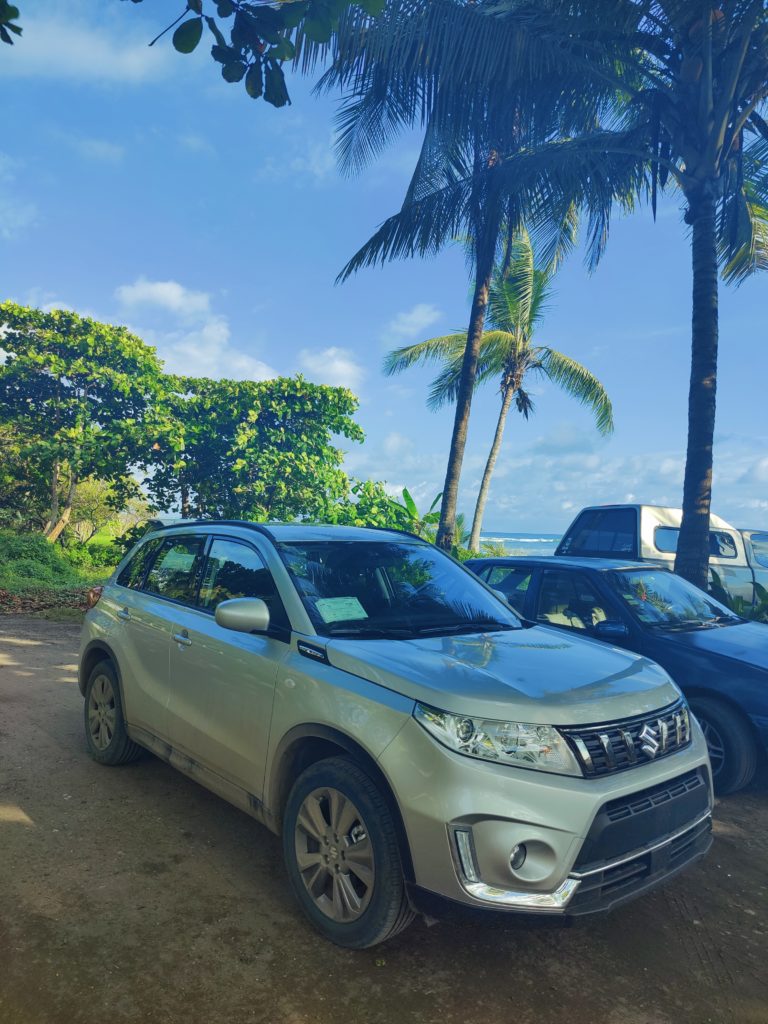 A 4×4 is needed?
It depends on where you are going. If you're going to popular destinations like San Jose, La Fortuna, Manuel Antonio, Puerto Viejo and Jaco, you don't need one, but if you're planning to stay in more remote areas, then probably yes. In places like Monteverde or Santa Teresa, it is recommended to have a 4×4.
We had some hotels that were quite remote and therefore not easy to access with a small city car. We were happy to have taken the 4×4 in some situations.
Plane
If you don't have the time, and the budget, there are regional flights. Costa Rica has several national airports. Nature Air is a national airline with almost 100 flights a day to 16 destinations throughout the country.
Is Costa Rica a budget-friendly destination ? 💸
Costa Rica is a fairly expensive country compared to its neighbors in terms of hotels, activities and car rentals. On the other hand, in terms of food, prices are reasonable.
You should know that in Costa Rica, you have to pay for each visit, whether it be national parks, waterfalls, hikes …. The entrance fees are quite expensive. It is therefore necessary to have a good budget for the visits.
Safety in Costa Rica ⚠️
Costa Rica is generally a safe country to visit. Like most destinations in the world, you will need to use common sense and take precautions, like not walking alone at night in some areas.
The city where I felt the least comfortable in the evening was San Jose, the capital.
Currency 💰
The official currency of Costa Rica is the colón or colones in the plural. However, many prices are displayed in US dollars in the most touristic places. I always advise you to pay in local currency to avoid a higher exchange rate.
We did not change the currency before leaving, but we withdrew money directly from an ATM on site. You can find them everywhere in the cities. Note, that there is a fee of about 5 EUR for each withdrawal.
We also paid a lot with the phone via Google Pay, and that for almost all the duration of the trip. This avoided having too much cash on us.
What are the procedures to enter the country? 🛃
You will find here, on the official website, all the information about the conditions to enter the country, but also all kind of useful information about the country.
---
Find also my other articles on Costa Rica. 🤗
---
Want to save this article ? Pin it !