"LOS ANGELES IS LIKE A BEAUTY PARLOR AT THE END OF THE UNIVERSE."

EMILY MORTIMER
With nearly 4 million inhabitants, Los Angeles is the second-largest city in the United States. Don't try to see Los Angeles in one day, as the city is huge, and getting from one neighborhood to another often takes several hours.
LA feels like home to me and is my favorite city in the world. I had the opportunity to spent 3 months in LA to study. I was housed in a host family and learned a lot about the American culture. If I could, I would live there. This Los Angeles trip was an amazing experience! 😍
If you visit Los Angeles for the first time, in this article I show you 16 ideas of visits & activities.
Where to stay in Los Angeles?
Whether you choose an Airbnb, a home exchange or a hotel, you will quickly be faced with the question: in which area of ​​Los Angeles will I put my bags? This is an important choice to make, as the city is so large, and you could easily find yourself driving an hour or two to get to where you want to be. To make your choice, you can ask you these two questions:
What you want to see in Los Angeles.
How much time you have.
I was located in Redondo, which is not close to LA city center, but closer to the beaches.
Here are some idea of once in lifetime things to do in Los Angeles.
9 Things to visit in Los Angeles
1 | Hike to the Hollywood sign
I know it's not always easy to know where to go to see them properly, but the best spot for me is from "Hollywoodland". You have to go up north of "N Beachwood Dr" then zigzag up to the top of Mulholland Hwy! There is also a viewpoint from the "Hollywood Sign Vista Point" (at 3000 Canyon Lake Drive).
Also, be aware that you can also see the letters from the "Griffith Observatory" (with its superb view of LA and its planetarium). You can also start your hike from the Griffith observatory, but the hike will be very long. We spent about more than 2 hours to hike to the sign.
Note that, it will be impossible to get close to the letters because it is forbidden. But you can't leave Los Angeles without having seen them! 🤩
2 | Hollywood Boulevard
Have a walk on the Hollywood Boulevard and have a stop at the famous Chinese theater.
3 | Santa Monica Boulevard
Have a walk on Santa Monica Boulevard and take pictures with the famous walls. Also, when In Santa Monica, have a brunch at Blue Jam Café. It's a famous café in the area. You will certainly be put on a list and have to wait for your turn, but the food is good!
4 | Beverly Hills/Rodeo Drive
Have a walk in the Beverly Hills area and do not miss Rodeo Drive and its luxury shops. Also do not forget to pose in front of the Beverly Hills sign.
5 | LACMA Urban lights
Have a stop at LACMA urban lights. These urban Lights are a large-scale assemblage sculpture by Chris Burden, located at the entrance to the Los Angeles County Museum of Art, on Wilshire Boulevard.
6 | The Grove
Do not miss the Grove and the Farmers Market. The grove is an outdoor mall, where you will find lots of fancy shopping stores with very traditional family markets. The Original Farmers Market is an area of food stalls, sit-down eateries, prepared food vendors, and produce markets. I recommend having lunch here.
7 | Hermosa beach
Hermosa beach. The beach is situated next to Redondo Beach. There is a nice restaurant, called American Junkie. Every Tuesday, it is the day of the tacos. I recommend you have dinner or a drink there. The foods and drinks are so good! 🤩
8 | Santa Monica and Venice Beach
Have a walk in Santa Monica and Venice Beach. You can do both in one day. When in Santa Monica do not miss the famous Santa Monica pier. Do not miss the Venice canals as well, which are situated behind the coast of Venice.
Venice Beach is huge, and the atmosphere is very special. With its skate park, many street artists and many small shops along the beach where they sell everything and especially "anything". I wouldn't say it's genuinely 'beautiful' everywhere, but it's a 'happy mess' that's worth being seen.
9 | Malibu
Stop at Malibu's beaches and drive into the hills. Have a stop at Matador beach, which is a nice beach in Malibu. While in Malibu, I recommend, you have lunch/dinner at Nobu. Quite expensive but excellent.
7 Activities to do in Los Angeles
1 | Work out
If you like to work out, you should not miss a workout at Gold Gyms, situated in Venice Beach. It is one of the greatest and famous gym in the world. Many bodybuilders have been training there.
2 | Lakers game
Watch a Lakers game at Staples center. The show is incredible, and the atmosphere is awesome! 🤩
3 | Dodgers game
Watch a Dodgers game. By the way, we passed on the kiss cam that day. 🤩
4 | Hockey game
Watch a hockey game at Staples center.
5 | Universal Studio
Plan a day at Universal studio. I did it twice, it is so cool! I recommend you to go at the opening, because it can be crowded especially during the weekends.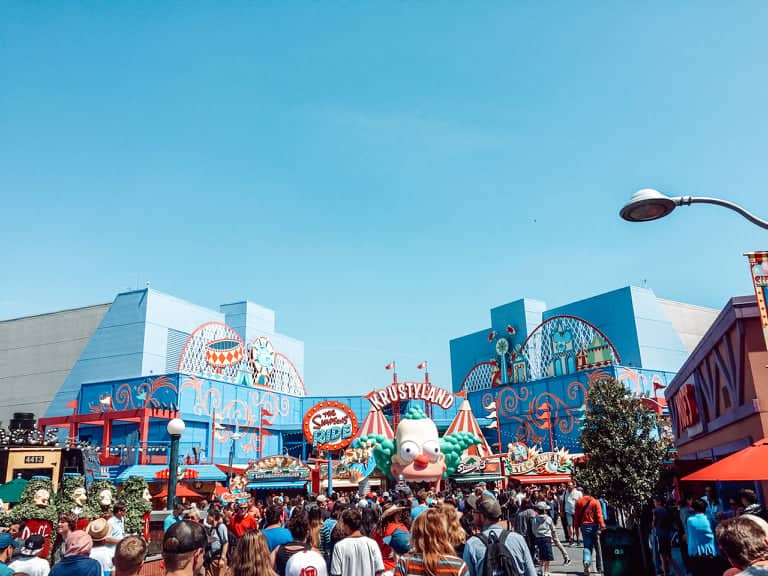 6 | Rent a bike along the coast
You can rent bikes in Venice Beach or surely somewhere else along the coast. As my school was situated in Redondo Beach, I rode a lot along the coast. It is relaxing, especially during the sunset, where from time to time, I could see dolphins swimming. 🥰
7 | Shooting session
Do a shooting session. We did one at LAX Firing range. It was crazy!
---
I hope you enjoyed this Los Angeles trip once in lifetime things to do in Los Angeles. Feel free to leave a comment. 👍
Pin it!