'Start your engine and hit the open road on the adventure of a lifetime !
A road trip in the American West is legendary! We immediately think about the Grand Canyon, Las Vegas, Monument Valley and its Westerns' movie sets, and we dive into the American dream in one second. I therefore suggest you embark with me on those legendary routes, and discover the wonders of the Great American West! 🤩
Together with some friends I met at my Cali school, we decided to go on a road trip during 10 days. It was an incredible experience! 🤩In total, we did about 2000 miles!
Things to know before
Have you ever heard about the U.S. Park Pass? If not, you definitely need to buy it in order to save money! It is your ticket to more than 2,000 federal recreation sites across the country. The pass covers entrances, standard amenity fees and day use fees for the driver and all passengers in a personal vehicle. The price of that pass is around 80 dollars, and you can enter a lot of National parks. Here's an example:
By following this example, you save 60 dollars with the pass.
Day 1 – Monterey
On the first day, we stopped in Monterey, as it was on the way to San Francisco. We preferred to split the route, as we didn't want to spend too much time on the road. Also, when we left Los Angeles, we first stopped at an outlet, which took us some hours. We didn't want to do the trip all at once.
We stopped in the city of Monterey, as it is a cute little town with some activities to do. Monterey is an unforgettable destination that will reinvigorate your soul. Monterey is also situated on the breathtaking Big Sur coastline on Highway 1. It was at first on our list, but the road was closed due to works.
Day 2 to 4 – San Francisco
Our second stop of the road trip was San Francisco. To be honest, I didn't get too hung up on that city. I found that there were a lot of homeless people who injected drugs in the streets in front of everyone. It's a pity, because there are pretty corners to discover, but we didn't always feel comfortable when walking in the streets. Once, we wanted to eat in a fast food restaurant, but when we got there, we discovered a lot of homeless people who simply came to four places.
6 Things to see/do
1 | Painted ladies
A must-see at the top of the hill on Alamo Square, from where you can admire those Victorian houses and the view over downtown. There are plenty of similar houses in San Francisco, but these form a beautiful whole and offer a real "postcard" of the city.
2 | Lombard Street
Walk on the famous Lombard Street, which is an east–west street in San Francisco, and is famous for a steep, one-block section with eight hairpins turns.
3 | Alcatraz Prison
At first glance it seemed rather creepy to me to visit a prison – which has not been in operation since 1963, but we must admit that the visit with an audio guide is very well done and fascinating. Plan to purchase your tickets in advance, and allow half a day to visit.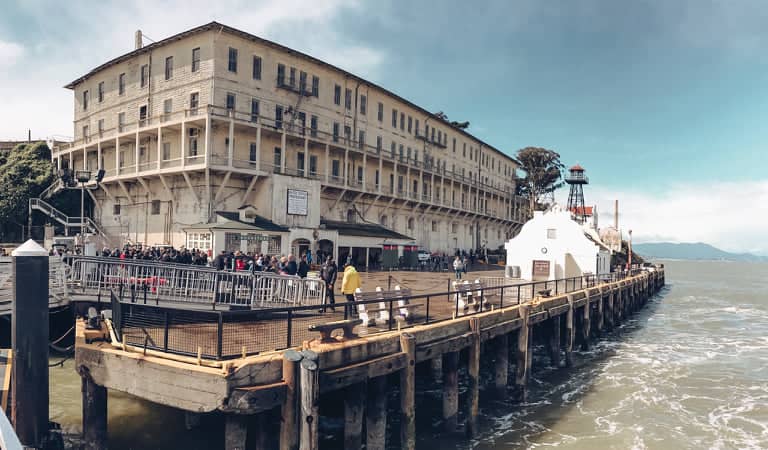 4 | Cable car
Try the Cable car. $8 a climb for a one-way ticket: super fun but useless at the same time, we did it just for the pleasure of hanging on those old machines open to the wind!
5 | Pier 39
Pier 39 is a shopping center and a popular touristic attraction built on a pier. At Pier 39, there are shops, restaurants, a video arcade, street performances, the Aquarium of the Bay, virtual 3D rides, and views over California sea lions hauling out on docks of Pier 39's marina Fisherman's wharf to Ghirardelli Square.
6 | Golden Gate viewpoints
You can admire the view from different points of view. We went to the Battery Spencer viewpoint. At the Golden Gate Vista Point, you also have a nice view over the bridge.
Day 5 – Yosemite National Park
After our stay in San Francisco, we took the road to Yosemite. Considered one of the gems of America's great parks, Yosemite is also known to anyone with an Apple computer. This enchanting decor is part of the wallpaper library of that Apple brand.
The first viewpoint of the park is Yosemite Valley. The gray granite cliffs are very high, but that glacial valley does not seem that narrow, and an almost dry river flows below. All around us, granite domes and spikes, the most famous giant monoliths. We easily recognized El Capitan as well.
There, it was still winter, so a lot of roads were closed due to the snow. We only did the main roads, because we had no snow chains. We did a little hike to the Lower Yosemite Fall Trail. It is a very small hike of about 20 min, but it was nice to do.
Where to sleep in Yosemite?
We booked the Yosemite Bug Rustic Mountain Resort. That hotel is situated on a hillside in a forest and not that far away from the park.
Day 6 – Kings Canyon National park
Normally, we had to visit the Sequoia park as well, but we never succeeded to put the chains on the tires long enough to visit the park ! We almost tried during 2 hours, and when we succeeded, they broke after 10 meters…so we couldn't visit that park. Instead, we went to Kings Canyon Park. Sequoia and Kings Canyon are two adjacent parks, managed together as one National Park.
When in Kings Canyon, the most touristic attraction is the General grant Tree. The General Grant Tree is the world's third-largest sequoia. That tree has been officially named "The Nation's Christmas Tree". You can also hike the General Grant Trail, which can be nice to do.
We spent the night at the Sierra Lodge in Three rivers, as it is not far away from the main park.
Day 7 – Death Valley
Another most of the American West, is of course, Death Valley National Park. The gloomy reputation of the valley associated with the beauty of these desert immediately transports us to an intimidating atmosphere. Here, no one will hear us scream. The landscape is impressive!
Some places to see in Death Valley
Mesquite Flat Sand Dunes.
The Golden Canyon.
Salt flats of Badwater: It is the lowest point in the United States, 86 meters below sea level.
Zabriskie Point. We climbed to the top of Zabriskie Point to admire a point of view: we discovered a lunar landscape.
There are other places to see, like Artist Drive, but we had to skip some because the road was closed.
| We spent the night at K-7 Bed and Breakfast in Pahrump, because the prices were much less expensive than in the park itself or around.
Day 8 to 9 – Las Vegas
''What happens in Vegas, stays in Vegas!"
Vegas is amazing and deserves well its reputation! 🤩 In Vegas, we strolled along the Strip (a 6.7 km stretch where you can find the biggest hotels and casinos in Vegas) and soaked up the atmosphere.
A good part of the strip can be done on foot (and it is between the "Excalibur Hotel Casino" and the "Treasure Island" that it is the most interesting and the simplest). There are many bridges to pass from one Casino to another. Vegas is more popular than you might think! Don't miss the "Welcome to Fabulous Las Vegas" sign as well, situated a lot more to the south. You probably need a car to go there.
While in Vegas, we travelled the world without leaving the Strip. From watching gondoliers at the Venetian hotel to heading to the top of the Eiffel Tower, passing by the pyramids at the Luxor hotel and visiting the Bellagio botanical gardens, or screaming our head off on the rides at the top of the Stratosphere. Just amazing! 🥳
The Modern Strip isn't the only interesting place to visit in Las Vegas. Downtown Las Vegas is also an impressive place. That is the historic center of Las Vegas and there is a very special atmosphere, which one could define as "vintage", with many Street-Art and the Fremont Street Experience.
Vegas got our hearts ! It was one of the best weekends in our lives! 🥳
Day 10 – Gran Canyon National park
The Grand Canyon, we no longer present it! And it is almost unthinkable to take your road trip in the American West without going there! It is extraordinary and even more impressive than one can imagine. There are many points of view to discover the canyon. That is one of the most beautiful things I have ever seen! 😍
After the Grand Canyon, we went back to LA. On our way, back, we had a stop on the Route 66. You can't really have a US road trip in the American West without driving a stretch of The Mother Road – Route 66. 🤩
---
Pin it!